LG Skyscraper is perfect fit for Fife growers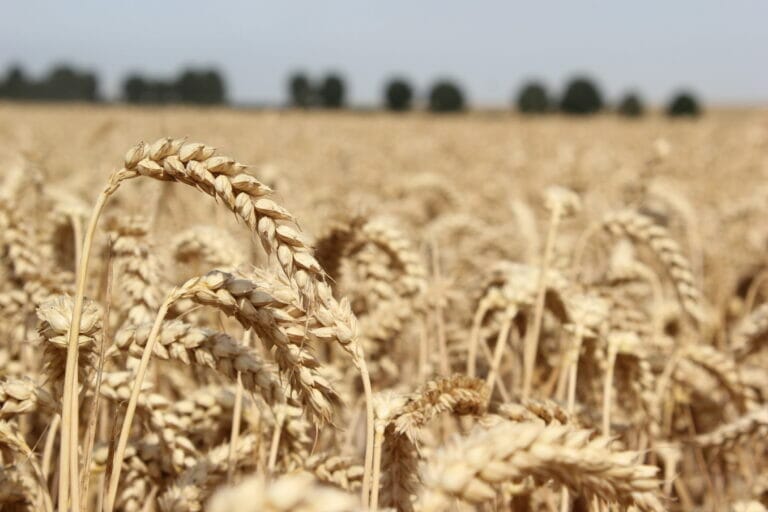 Consistent yield performance over several seasons, strong agronomics and suitability for later drilling, have seen soft wheat LG Skyscraper become a mainstay of the rotation for two Fife growers.
Tenant farmer and contractor, Zander Hughes, who farms 320 ha (800 acres) of combinable crops for a range of clients, has been growing the variety for several years, and has 81 ha in the ground for this harvest – his whole winter wheat area. 
"We saw LG Skyscraper in trials a few years ago and liked the look of it. It fits our main markets, as we grow predominantly soft wheats that tend to go for distilling at the local Cameronbridge distillery in Leven." 
But, it is LG Skyscraper's strong yield performance across multiple seasons, drilling dates, and rotational positions, that he most values, with yields averaging more than 10 t/ha over multiple seasons, and up to 13.5 t/ha at best. 
"Yield is king for us. We're always looking to achieve the biggest end margin, and that usually coincides with the highest yield. Importantly, our average is based on marketable yield, which is the actual weight sold to the end user, not just what the combine yield monitor says." 
Grain quality has been consistently good too, with protein typically averaging 10.5-11%. While this is not crucial to him from an end market point of view, especially as there are many local animal feed outlets should crops not go into distilling, protein content does provide a useful indicator of nitrogen use efficiency, he says. 
"Specific weight is a priority though, and all wheats have performed very well in recent years." 
Good straw yield is an added benefit, given strong demand from livestock producers in the area, he notes. 
---
Late drilling suitability
Most of Mr Hughes's LG Skyscraper is sown as a first wheat after either potatoes, vegetables (broccoli/ cauliflower), grass or spring barley, so he appreciates the variety's flexibility for medium to later drilling. 
"Around 60% of land is still ploughed, with the remainder established on a min-till system. We typically drill wheat in the third week of September, but have drilled anywhere from 20 August to 20 January. 
"This year we've got LG Skyscraper that didn't go in until the first week of December and still looks exceptional. The crop's all standing, looks strong, and clean. It's what you want a wheat to look like." 
Mr Hughes says LG Skyscraper has a fairly vigorous growth habit once it germinates, so he has no fear of sowing it later, as he might with some other varieties. "In general, it is pretty flexible, although is probably not particularly suited to early drilling."
Fellow Fife grower, Russell Black, near Cupar, also values LG Skyscraper's suitability for later drilling. This year, he is growing around 20 ha of LG Skyscraper, plus 20 ha of LG Spotlight, with all LG Skyscraper sown as a first wheat after potatoes on good quality loam soils.
"We usually don't start drilling wheat after potatoes until the end of October, so tend to work with quite high seed rates to ensure there are sufficient tillers. At the end of October, when conditions are cooler, days are shorter and the ground is wetter, we might be sowing 500 seeds/m2, whereas in September we'd be down at 350-400 seeds/m2." 
Most land is ploughed before drilling, with compound phosphate and potash fertiliser applied with seed and three equal splits of nitrogen, plus sulphur in the spring. 
"We're looking for a target yield of at least 10 t/ha, and that's what we're consistently achieving," Mr Black continues. "This is our fourth year of growing LG Skyscraper and it's been a very consistent variety, in terms of yield and disease." 

---
Easy to manage 
Both farmers believe LG Skyscraper is a fairly straightforward variety to grow, with strong agronomics. 
Despite being slightly taller-strawed, lodging has never been an issue for either grower, and no major disease issues have been seen. 
Mr Hughes typically employs a four-spray programme, T0 to T3, with robust rates of good chemistry, and tight spray intervals. 
LG Skyscraper's resistance to Septoria and yellow rust was put to the test this season, when wet weather in February and March meant the T0 could not be applied to any of Mr Hughes's wheat, and crops faced relatively high disease pressure. 
"Normally, we'd also have applied a growth regulator with the T0, so despite missing one growth regulator and one fungicide, it still looks exceptionally good at the moment. We're getting on really well with it." 
Mr Black describes LG Skyscraper as an excellent "farmer-friendly variety that's not challenging to grow and is easy to manage". "It really suits our farm and what we're trying to achieve." 
He recognises that with the farm being within a Nitrate Vulnerable Zone (NVZ), which limits nitrogen applications, and most LG Skyscraper sown late, yields might be slightly restricted, so he is keen to see how the variety will perform when sown earlier. 
"We are looking to go back into oilseed rape this autumn, after not growing it for a few years due to clubroot problems. This will give us the chance next year to sow LG Skyscraper in September, which I'm really looking forward to. There might be a better variety for the earlier-sowing slot, but if not, then it will be LG Skyscraper. 
"I want to focus on growing first wheats as our land is too light to support a decent second wheat. With the cost of inputs, you can't afford to have an 8 t/ha crop anymore; it doesn't stack up." 
Like Mr Hughes, Mr Black says LG Skyscraper has always been a fairly clean variety, with his crops also getting a four-spray programme, which this year included Revystar XE (fluxapyroxad + Mefentrifluconazole) at T1 and Univoq (Fenpicoxamid + prothioconazole) at T2. Fungicides are generally applied at half-rate to keep costs down, he notes. 
Most of Mr Black's LG Skyscraper also goes into the Cameronbridge distillery, although in the past he has managed to sell some for biscuit-making, gaining a slight premium over the feed price. Quality-wise, it performs consistently well, with specific weight often hitting 80 kg/hl, resulting in a nice bold grain sample, he adds. 
"It's a consistent variety all-round. I like it, so plan to grow it again after potatoes this year, then we'll see how it does after oilseed rape next year." 
Mr Hughes acknowledges he is always looking at other varieties, to see what is best for the farm business, but currently has no plans to change. "At the moment, I think 80-90% of our 2023/24 acreage will be LG Skyscraper again. Until I see a reason to change to something better, or LG Skyscraper lets us down, then we will continue growing it."