Fuel from fodder beet supports cow performance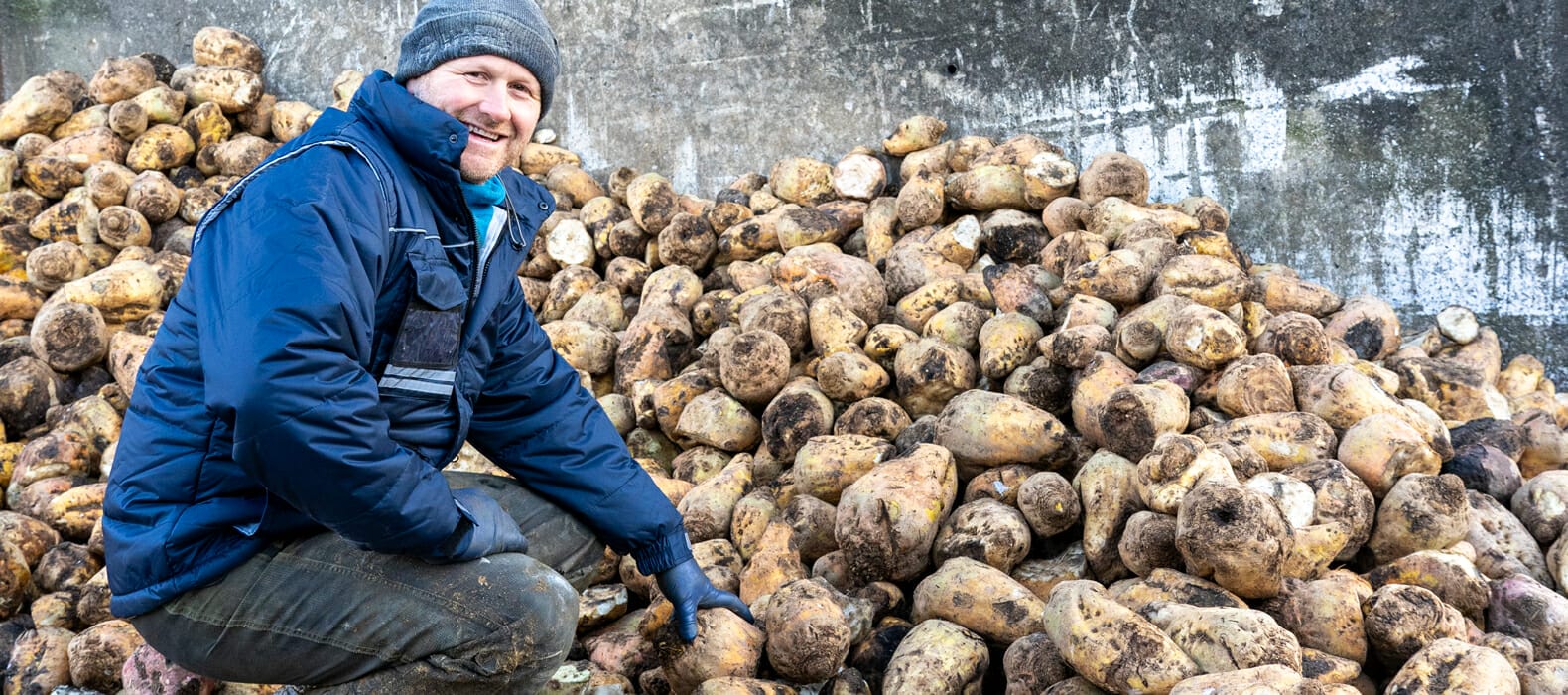 Pembrokeshire dairy farmer Roger James relies on a high energy diet in early lactation to keep his 300-cow cross bred dairy herd in good body condition and able to support milk production and high fertility levels in a trouble-free fashion.
He gets this from a combination of breeding and nutrition.
Roger says his medium-sized strong cows are ideal – a cross of Montbeliarde, Norwegian Red and British Friesian genetics. "And if we feed them properly, they produce good quality milk, stay fit and get back in calf easily."
The diet is based on a TMR comprising grass and wholecrop silage and fodder beet – all home-grown forages – plus  molasses and a blend, as well as a rumen buffer, vitamins and minerals. This supports average yields in this NMR-recorded herd of 8,000 litres at 4.35% fat and 3.50% protein on twice-a-day milking.
"The fodder beet gives our cows plenty of energy and that, in turn, results in good fertility," says Roger.
"We target, and usually achieve, a 365-day average calving interval. Getting cows back in calf is the cornerstone of our management system here. We're mainly autumn calving and look to calve 240 cows in an eight-week period from October."
Fodder beet is introduced to the ration early in December at a rate of 6kg per cow per day, increasing to 8kg per head by the end of the month to get the energy up, ahead of starting to AI cows from the beginning of January.
Around 3.6 hectares of fodder beet is sown in April and provides a break crop for wholecrop wheat. "The land is free-draining, and the fodder beet grows really well, whatever the season throws at it," he says. "We lift about 320 tonne of fodder beet each year, and yield doesn't vary much from year to year." Average yield is about 90t/ha.
He says that during the decade of growing the crop, he's never had a bad harvest. "In fact, we've had some of our best yields when it's been really dry and hot, such as in 2018 and in 2022. I think the extra warmth in the soil, when it did eventually rain, meant the beet grew like mad and more than made up for lost time."
Fodder beet grown at Moat Grange, just south of the Preseli hills in the heart of Pembrokeshire, is lifted in early November and stored in a clamp, before being washed, chopped and added to the TMR.
"We feed it in the TMR even after the cows are turned out in mid-March. They're given a buffer to support yields and fed concentrate in the parlour until milk eases off and they're approaching drying off.
"The fodder beet keeps well, until mid-April when temperatures warm up and it starts to go soft. But we aim to have finished feeding it all by then."
Roger is discerning about the variety he grows and takes advice from his Wynnstay adviser Laurence Couzens.
"We've opted for Robbos for the past few years, and I'm pleased with it. It offers a high dry matter yield and feed value. And the smooth skin, and the fact that it's not too deep rooted, means it lifts out clean and easily, making it easier to wash.
"I know I don't necessarily need to wash it, and many growers don't, but I prefer to reduce any risk of soil contamination," says Roger.
He farms the 174-hectare unit, which has been in the family for more than 100 years, in partnership with his father Robert and brother Simon.
Roger manages the dairy herd and followers with the help of a cowman and two full-time staff. His partner Angharad is also developing a gelato business – Llaeth Preseli Milk and Gelato – using milk from the herd.
"Milk quality from healthy and productive cows is important to us," he adds. "We sell pasteurised milk and handmade gelato directly from the farm. The milk is sold through a vending machine, and the gelato is served from a trailer in our 'gelato garden'. Both these ventures are brand new and going well so far. Most of the herd's milk is sold to First Milk and used for making cheddar cheese.
"We're aiming to get the best from our unit and our cows. Our home- grown forage is vital. First cut is taken in mid-May – a little later than some would take it, but it means there's more fibre in the silage and this balances well with the wholecrop. The fodder beet is the icing on the cake. Cows keep well on this, and production, health and fertility are good. So is our gelato!""
KEY FACTS ON FODDER BEET
Can be part of a grass rotation or an alternative to spring cereal crops to provide livestock feed and break the pest and disease cycle
Crop can be lifted from late October until March. Little loss in feed value, if any, is typically seen in later harvested crops.
High energy feed provides high feed value
Average ME 12.5-13MJ/kg DM, 162,500 – 202,500MJ/ha with more recent varieties producing well above this level.
Choice of variety to suit the system
Consider root depth, disease resistance, bolting score
There are no recommended lists for fodder beet varieties, but Limagrain UK's annual fodder beet trial results are available to all growers and farmers.
more information
Learn more about Robbos fodder beet here or contact your usual seed merchant for availability
The latest UK trial results data on fodder beet (including Fosyma) can be downloaded here