Fodder beet helps safeguard farmer from feed price hikes whilst benefiting land
Growing fodder beet to feed cattle and sheep is helping Shropshire mixed farmer Gordon Tomley safeguard against high feed prices and benefit soil health as part of his cereal rotation.
Mr Tomley grows 12ha of fodder beet a year to feed his 500 head of cattle – from his own 80-cow suckler cow herd and 200 bought-in dairy cross weaners a year – and 700 ewes. He says stock do well off it, with cases of twin lamb disease in ewes almost disappearing, and Angus heifers and steers averaging at least 1kg a day liveweight gain.
It also provides a good break crop for this mixed farm, which includes 243ha of arable. The main rotation includes two wheat crops, winter barley, stubble turnips, fodder beet and potatoes.
Feeding rate
Throughout the winter, heifers and steers over 12 months old are fed whole fodder beet in bunkers at a rate of 3kg to 4kg a day and ad lib silage, building to 15kg to 18kg as they head towards finishing.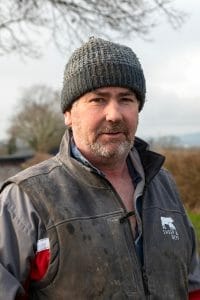 In the last three months of finishing, they are also fed barley straw and ad lib corn to get the finish. However, Mr Tomley says they will always choose to eat fodder beet over corn any day.
"There's a saying that 4kg of fodder beet is worth 1kg of corn. It certainly helps us get a good finish on cattle at a cost to feed of about 2p to 3p/kg," he adds.
His 80 dairy cross Angus suckler cows receive 10kg a head a day of beet, and anything under 10 months is on between 5kg and 8kg a day.
Dairy x Angus heifers are averaging 315kg and steers 335kg to 340kg at about 20 months old when they are finished.
Ewes do equally as well on the home-grown product. He farms 400 Welsh and Beulah ewes on a hill farm nearby and he feeds whole ad-lib fodder beet, using a Marshall spreader, from December until six weeks post-lambing in April.
He also has 200 half-bred Mules on the home farm which are fed ad-lib fodder beet over winter. None of the ewes receives corn, as the fodder beet provides plenty of energy, and Mr Tomley says feeding fodder beet 'takes a lot of hassle out of the job'.
He adds: "When you have a lot of stock, it's good to know the fodder beet is there. It means we are not at the mercy of the marketplace, safeguarding us against high feed prices."
Fodder beet also provides an added income stream as Mr Tomley sells up to 20% of the crop to neighbouring farmers, which this year was at £45/t.
Variety selection
Variety selection is critical to achieving such good performance in his stock, a key focus for agricultural merchants Wynnstay who offer support to growers and farmers in the region.
"We see big improvements in the reliability and consistency of higher yields and the improved feed value in the more recent varieties," says the company's grass and root seed manager Colin Jones.
Mr Tomley grows Robbos on his medium loam soil type. It yields more than 80t/hectare and has a dry matter of 19%.
"Robbos isn't such a hard variety, which is good for the sheep as it's a little softer on their mouths. It also keeps its leaf well, so if stock is grazing it directly, there is feed value in the leaf. The good leaf also helps protect it against frost," he adds.
Mr Tomley also notes the cleanliness of the variety. "The first lot we lifted last year didn't need cleaning as Robbos has a clean root. Our contractors' machines help too, as they spin off any soil," he says.
Before growing Robbos, he grew Magnum for many years, but the yield was lower, but it needed the same inputs.
Mr Tomley uses a contractor to sow the crop, usually around April 10, and it follows a crop of stubble turnips. The first batch of fodder beet is usually lifted at the end of November, with a second lift in January and a third at the end of February.
He stores it in a heap on a concrete pad next to his silage clamp, with the roots able to keep for four to five months.
Getting a good crop requires some key management, though. Mr Tomley explains: "If you want the yield, then you must make sure there is no weed competition early on. We use one pre-emergence and one post emergence herbicide and fungicide for powdery mildew and yellow virus to protect the crop."
He also applies 10 tonnes/ha of layer manure and 20t/ha of farmyard manure, which is ploughed in. The ground is then flat-lifted and worked, ready for sowing. "Last year, it paid off applying at the end of August after the dry summer," he adds.
Middleton Farm Facts
• 162ha grassland and 243ha of arable
• Growing 12ha of fodder beet variety Robbos a year
• Growing, lifting and sowing costs £1485-£1605/ha
• Fed to 500 head of cattle and 700 ewes
About Robbos Fodder Beet
• Has the potential to produce high dry matter yields with its clean yellow roots and medium dry matter content.
• Ideal choice for both dairy and beef production, and for first-time fodder beet growers.
• Robbos fodder beet is UK proven with large leaves and clean roots.
More information
Learn more about Robbos fodder beet here or contact your usual seed merchant for availability
The latest UK trial results data on fodder beet (including Robbos) can be downloaded here