CONVISO® SMART sugar beet – all you need to know!
BTS SMART 9485 is the first ALS herbicide tolerance variety from Betaseed, offering the highest yield potential for SMART CONVISO varieties, combined with improved disease and bolting resistance. Here's all you need to know about BTS Smart varieties.
Key facts about BTS Smart varieties
BTS SMART sugar beet varieties have a genetic tolerance to work successfully together with the CONVISO® ONE herbicide.
CONVISO® ONE offers a combined efficacy against monocotyledonous and dicotyledonous weeds.
CONVISO® SMART sugar beets do not show yield loss caused by phytotoxicity when using CONVISO® ONE.
Effective elimination of conventional weed beets.
Sowing BTS Smart seed
Clean your seed drill thoroughly before sowing BTS SMART seed. Classic varieties sown in a CONVISO® SMART crop will not withstand the CONVISO® ONE herbicide.
Keep BTS SMART seed separate from classic sugar beet seed to avoid any mixing! CAUTION: It is extremely important not to mix BTS SMART seed with classic sugar beet seed at any time. Classic sugar beets will die off if treated with CONVISO® ONE.
TIPS FOR CLEANING THE SOWING MACHINE PROPERLY:
Use a vacuum cleaner to empty the planting unit
Rotate sowing disc until it is completely empty
WEED RESISTANCE MANAGEMENT
Use CONVISO® ONE according to the weed resistance management guidelines.
Use the recommended full dose rate.
Add an adjuvant to strengthen the efficacy if required.
Respect the appropriate recommended growth stage of weeds for application.
Sequence CONVISO® ONE application with non-ALS herbicides when required.
Consider a non-selective herbicide as a preceeding treatment after allowing emergence of weeds.
Always investigate the reasons for lower levels of efficacy control.
Make use of good agricultural practice to ensure good weed resistance management.
Use measures of integrated weed management(cultural, mechanical and chemical control).
Use cover crops if possible to reduce weed pressure.
Respect the crop rotation.
Rotate different herbicide mode of action in the crop rotation.
Use at least once in a 3-year crop rotation a pre-emergence / early post-emergence non-ALS
inhibiting herbicide.
If resistance is suspected, consult with a BASIS qualified advisor and use alternative herbicides.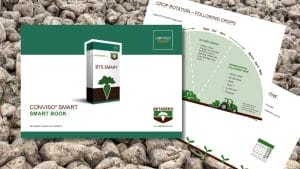 The Conviso Smart Brochure covers;
Conviso® One key facts
Timings
Effective weed control
Weed resistance situations
Handling
Sprayer preparation
Visible effects, bolters, crop rotations
Info for groundkeepers