Consistency is key to sugar beet success
Sugar beet plays an important part in the rotation because it provides consistent yields and is a genuine break crop, according to fourth generation farmer Peter Mahony, of R&D Mahony.
"We grow sugar beet because it is a spring-sown crop that contributes to weed control, particularly black grass, which can be problematic as our soils are mainly heavy clay which predisposes them to the weed."
Mr Mahony's variety of choice over the past three years has been BTS 1915, which he likes because it 'ticks the box on consistent yield'. He has also grown BTS 1140 and BTS 3610.
"BTS 1915 fits well with our system despite the variety being susceptible to bolting, as we are growing the crop in heavy soils, so we do not usually drill until the second half of March."
The Bury St Edmunds-based farm has been growing sugar beet since the mid-1960s, so there is plenty of crop management experience behind decisions, although Peter emphasises that every spring brings different challenges.
Sugar beet usually follows winter wheat and Peter's strategy is to plough in the autumn, burn off volunteers with glyphosate, repeat this again in the spring and create a nice seedbed with good tilth.
His five-year average yield is 73t/ha, he reveals, remarking that this is a good result given the heavy soils the crop is grown in. However, last year, yields were lower due to the drought and beet moth issues.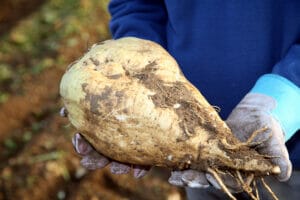 "Whilst we have a had a few dry springs, this year we are also coping with March and April being unreasonably cold and very wet.
"But we have to work with what we are given, and beet drilling was split with 7ha drilled on the 5th April and the remainder 18-19th April.
"We planted into very wet seedbeds, so we kept drilling depths shallow to conserve the tilth on the top."
By the third week of May the crops were at the four to eight-leaf stage, and looking very healthy.
Peter goes on to share some of his 'secrets' of how he addresses some of the inherent challenges to get the most from sugar beet crops on his land.
"We find that quite often it can be too hot in the day to apply herbicides, so we prefer to go in the evening.
"If the machinery has been used for spraying cereals, we make sure it is given a good clean before it goes into sugar beet to prevent contamination."
He has also adjusted his fertiliser strategy for sugar beet, to ensure the best results.
"When the crop emerges we like to apply 80kg/N/ha to give it a good push. However, although we use liquid N on the other crops in the rotation, it can cause scorch on sugar beet and also interfere with herbicide efficacy.
"As a result, we buy solid fertiliser especially for the sugar beet, which, as it is bought in small quantities, is expensive, but the end result is worth it."
Lifting sugar beet can cause soil compaction which needs remedial work before the next crop goes in and Peter points out that the harvester, which weighs 40t, plus the tractor and trailer are all on the field at the wrong time of year.
"We normally try to have just two or three lifts, and then go into spring barley."
"However, last year we managed to lift in mid-October, which worked well."
One of the reasons behind this early lifting was because there was an attack of beet moth; last year also saw challenges from heat, drought and aphids.
"With BTS varieties, and particularly BTS 1915, we are able to achieve consistent yields. This means we know what we are going to get, even when prices are not so good.
"However, as we are now changing our tillage strategy, and will be using a Claydon drill, we will have to evaluate where – and whether – sugar beet will sit with the new regime."
Farm facts:
Home farm: 133ha (330 acres)
Contract farm: 81ha (200 acres)
Soil: Heavy clay
Current rotation: Winter barley, winter wheat, beans, sugar beet, spring barley
Highest yields for third year running
The highest yielding variety on the Recommended List, BTS 1915 keeps its lead for the third year running at 103.9%.
"BTS 1915 is once again showing its ability to hold onto its exceptional yields across a range of locations and situations."
"The consistency of performance of BTS 1915 is quite remarkable, and should give growers the reassurance that they are looking for when considering what variety to grow this year."
"This significant yield advantage over any other variety on the RL – and also as the highest yielding variety in untreated trials at 106.5%, really proves the quality of the genetics behind the variety," says Mr Granger.
BTS 1915 is not just about high yields however, he continues. "We recognise that varieties also need to establish well, have good bolting tolerance and robust disease resistance to succeed."
BTS 1915 does have a good disease resistance profile but is not a variety to be considered for the early drilling situation as indicated by the red X (unsuitable for sowing before mid March), points out Mr Granger.
"We recommend the variety for the normal to late sowing period – mid March onwards, which for the majority of growers is the mean average drilling date on farm. "
BTS 1915 Facts
• Bred by Betaseed, the Limagrain UK portfolio offers varieties to suit a range of situations and requirements:
• BTS 1915 – The highest yielding variety available
• Suitable for sowing Mid March onwards
• Good disease resistance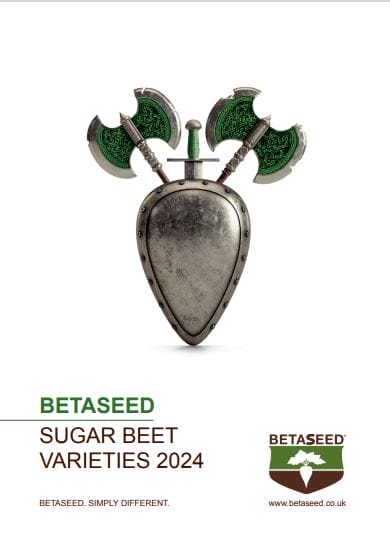 King of the crop
LG Monarch grass seed mixtures come up trumps on North Yorkshire sheep farm
Livestock farmer Andrew Hollings relies on good quality grass for his 1,000 hill ewes and small beef herd situated in Goathland, in the North Yorkshire National Park.
The farm is a mixture of moors and lower lying grass leys. Andrew, who is the third generation of the family to farm at Liberty Hall, has a system designed to suit the area. His Swaledales and Cheviots are hardy enough for the moors. These are crossed with a Leicester tup, and the lambs are reared and finished on the lower land. Lambing starts in early April.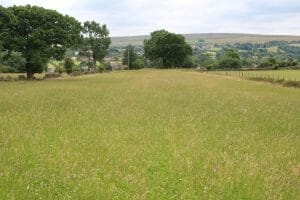 "It's soon enough up here," says Andrew, who has noticed a change in conditions during his farming career. "We've always worked with the weather not against it," he adds.
"We're just 10 miles in land from Whitby and we seem to get stronger winds coming off the North Sea," he says. "These winds are our biggest challenge. It can be very wet, then the winds pick up and they dry out the ground. Summers are drier and warmer than they were 30 years ago. These conditions are harsh on the grass crops. We have to adapt our system to maintain and improve productivity."
Mindful that grass must remain 'king' on both Liberty Farm's 93-hectares and the blocks of rented land, Andrew has become more discerning on grass seed mixture choices and he's started using options that are more suited to conditions and to coping with the challenges, all while improving feed value and productivity.
"I want as much feed value from homegrown forages," he adds. "I rely mainly on grazed grass and some haylage. In very dry summers, we've seen the ground dry up and grass becomes short. In 2022, when it was particularly dry, the feed value in the grass dropped and ewe productivity fell and there were more single lambs."
The knock-on effect of this changing weather pattern has made Andrew look more carefully at improving grass productivity to safeguard home grown forage supplies. And it's seen a move to better quality grass seed and multispecies mixtures.
He's taken some advice from BATA's agronomist Rose Thompson, and in 2021, he moved to using LG Monarch mixtures; partly because their range has mixtures designed for specific environments and purposes and also because the mixtures, designed by seed breeding company Limagrain, have been tried-and-tested in UK conditions.
"I look to reseed 15 to 20 acres (six to eight hectares) a year," adds Andrew. "Grass is the cheapest feed we have. If I can improve the quality, it pays dividends."
He opted for LG Monarch FlexiScot, which is a long-term mixture with highly productive tetraploid and diploid rye grasses, for early growth, and Timothy and white clover varieties that mature in mid-summer and offer some drought resistance.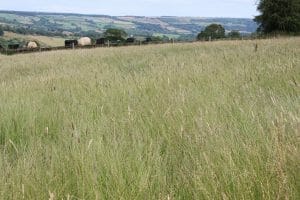 This mixture has excellent winter hardiness, and it has been tested successfully, across Scotland and Northern England.
Andrew directly drilled the Flexiscot seed after a crop of stubble turnips which were grown as a break crop. "We put plenty of muck on the land and a bit of fertiliser when we shut it up – this is hungry land."
In fact, Andrew soil tests the land every year. "It's vital that we get the pH right – it's acidic soil and we need to lime it regularly, applying about 3t/acre (1.5t/ha)."
The resulting crop was highly successful and produced a dense sward that came out very well when analysed as part of the farm's Flock Health Plan. "It's a mixture that I will continue with – the yield and quality in year one and two has been phenomenal."
Sheep at Liberty Hall graze the lower-lying grass swards until mid-May when they are closed up for six weeks before cutting for haylage for feeding ewes in January to March when there's no feed value in neither the grass nor heather.
"I'm really pleased with the amount of grass we get off it," he adds. "The swards are yielding very well with good quality grass and they're lasting well through summer. This mixture is a big improvement on the previous ones."
Another mixture Andrew introduced just recently is LG Monarch Multi-species. This medium-term herbal ley grazing mixture includes later perennial ryegrass, Timothy, red and white clover, chicory, sainfoin, fescues and plantain. The legume varieties reduce fertiliser input requirements and drought resistant species see the crop thriving during summer.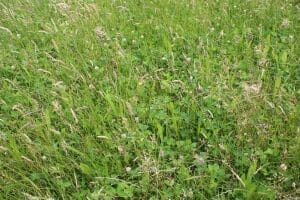 "I sowed 13-acres (5-ha) in mid-September 2022 – just power-harrowed the field and disced in the seed. It grew well. It didn't need fertiliser, there were no growth checks. It was ready for grazing in spring and the sward remained very green throughout the summer.
"In fact, it grew so vigorously early in the season, that we had to cut and bale some. The aftermath went on to make excellent grazing right through summer for the lambs. We've grown more multicut now – it's an ideal mixture for our lower-lying fields.
"These improved mixtures prove that it's not what the grass seed costs, but it's what it does that's important."
IDEAL FEED FOR SHEEP
Limagrain forage crop account manager, Henry Louth, says that Mr Hollings's experience with specific LG Monarch grass seed mixtures demonstrate the mixture's potential to work well in harsher conditions.
"This makes them ideal for upland sheep farmers," he says.
"Limagrain promotes its LG Monarch range, particularly the Flexiscot, Multicut and Multigraze mixtures to sheep farmers. Not only do they grow well, even in less than perfect conditions, they provide high feed value. Sheep and cattle also do particularly well on these forages."

He is also seeing more interest in the Monarch Multi-species mixture. "This is ideal for low-input grazing, and it provides a grazing crop throughout summer and in drier conditions. As the grass growth slows down, other varieties in the mixture, like chicory, keep growing."

County Durham estate finds perfect variety fit for regen system
A large estate in the North east of England, has turned to wheat variety LG Typhoon as part of its drive to build a more sustainable regenerative cropping system.
The in-house farming operation of County Durham-based Raby Estates began conversion to direct drilling in 2018 and is striving to reduce the use of artificial inputs where possible, without compromising on the quality and quantity of crops produced.
It is a challenge that the variety lived up to last season, according to farm manager Philip Vickers, who decided to trial the variety on the recommendation of Limagrain UK's arable technical manager, Ron Granger.
"We're trying to move away from growing high input varieties, so are primarily looking for those that offer a robust disease package, good standing power and suitability for our direct drilling system," Mr Vickers says.
"Direct drilling in northern England is not something you want to be doing into November, so I also look for varieties that suit the early drilling slot. From what we've seen so far, LG Typhoon seems to fit our requirements well."
---
Strong performance
Last season the farm grew around 32 ha (80 acres) of LG Typhoon, alongside several other varieties, but Mr Vickers has been so impressed with its agronomics, ease of management and yield performance, that he plans to increase this to 100 ha for 2023/24.
The LG Typhoon averaged an excellent 9.4-9.6 t/ha. A number of weather-related challenges throughout the season however, including exceptionally high Septoria pressure, did not make for an easy growing season.
The LG Typhoon was direct drilled in mid-September as a first wheat after oilseed rape, using the farm's 6-metre Horsch Avatar, or 6-metre Väderstad Seed Hawk, drills. Seed rates were kept relatively high at around 300/m2, to counter the slightly lower establishment percentage experienced when direct drilling.
All crops received a base application of phosphate and potash fertiliser, plus a total of up to 170 kg N/ha in the spring, applied as three splits; the first as granular urea, followed by two liquid nitrogen applications.
"We have been reducing nitrogen use significantly in recent years, but in contrast to conventional thinking, some crop yields have gone up in that period," Mr Vickers notes.
"Agronomy-wise, LG Typhoon was problem-free," he continues. "It established quickly in the autumn, got away well in the spring, and was relatively early to harvest, tight behind Graham."
But even though it established quickly, he says LG Typhoon did not get too large, unlike some other varieties, which continued tillering throughout a very mild autumn, during which temperatures hit 21°C in November. Those varieties then became much harder to manage with growth regulators and fungicides in the spring.
---
Robust disease profile
Strong Septoria resistance is a must-have for all winter wheat varieties grown on the farm, as the disease remains the number one yield-robber in high pressure seasons such as 2023, Mr Vickers says. "We generally look for varieties with a Recommended List score of at least six."
With a Septoria rating of 7.3, backed up by a combination of genetics that are different to those in other RL varieties, giving LG Typhoon a distinct advantage over other varieties.
Although crops received the farm standard fungicide programme, based around Iodus (laminarin) at T0, bixafen/prothioconazole at T1, Univoq (fenpicoxamid + prothioconazole) at T2, and straight tebuconazole at T3, he was able to reduce rates by 10-15% on the LG Typhoon due to its robust disease profile.
"To ease management, we generally try to keep fungicide products similar across all varieties, but will look to vary the rate where appropriate.
"Despite doing so on the LG Typhoon, we still didn't see any disease of significance at all last season, even though there was very high Septoria pressure which caused some other varieties to struggle."
Accurate spray timing is also key to maintaining effective disease control, as is a robust trace element programme to bolster plant health and reduce the crop's susceptibility to disease infection, he adds.
---
Perfect fit for regen systems
Mr Granger says LG Typhoon has certain attributes that make it ideally suited to strip tillage/direct drilling, regenerative crop establishment systems, that often feature wider rows.
LG Typhoon's growth habit, for example, means plants sit prostrate with slower growth through the winter into spring, which is ideal for those direct drilling earlier in the autumn and who do not want a variety that races off too quickly.
It is a high tillering variety that has the capacity to utilise the space between the wider rows, often found with some direct drilling equipment.
Indeed, while Mr Vickers's Horsch drill works on a standard row spacing, the Väderstad is at a slightly wider 180-200 mm spacing, and he also trialed a new 12-metre tine drill last season, which worked on a wider 250 mm row width.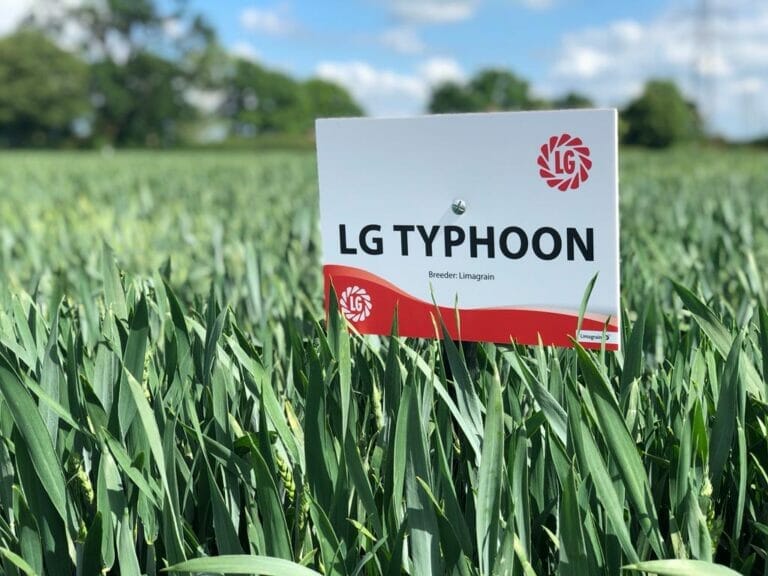 "Unfortunately, we don't yet have the yield data available, as the demo field was combined by a contractor, but the LG Typhoon did seem to really suit that wider row spacing. It's something we may potentially look at in the future, although I'm not sure a 12-metre machine is suited to some of the smaller fields on our farm."
Another attribute of LG Typhoon that makes it a good fit for regenerative systems, and for those looking for flexibility with crop protection inputs, is its strong standing power and disease resistance – reflected by its high untreated yield (92%), Mr Granger says.
Unlike some other feed varieties, it also offers Orange Wheat Blossom Midge (OWBM) resistance, in addition to a six-rating for eyespot and Fusarium.
"It's a high yielding, consistent and resilient variety, that delivers across seasons and rotations."
---
Raby Farms
In-house farming division of Raby Estates (Shropshire and County Durham)
The Durham farm typically grows 500-600 ha of winter wheat, mainly hard Group 4 feed
Cropping also includes winter barley, oilseed rape and beans
Started conversion to direct drilling in 2018
Looking to develop a more regenerative system, reducing reliance on artificial inputs
Started growing LG Typhoon in 2022/23
 
High yielding hard Group 4 feed wheat
Consistent performance across different seasons and regions
Excellent disease resistance, especially Septoria (7.3) and yellow rust (9) – high untreated yield (92%)
OWBM resistance
Growth habit suits early drilling and wider row regenerative systems
Excellent performance as a second wheat
LG Caravelle proves its value
Two row winter barley, LG Caravelle, joined the AHDB RL last year as a contender to match hybrid barley yields, and early harvest reports confirm that it has lived up to its promise.
Despite the challenging season, the variety has performed well on the Yorkshire Wolds. Mark Ullyott of Langtoft Grange Farm near Driffield, is really pleased with his seed crops of LG Caravelle, yielding between 8.5-9.5 t/ha.
"We have grown seed crops of barley for over 10 years, and LG Caravelle must be the best we have seen," he says.
He grew two fields this year: one following vining peas and the other after potatoes. The crop following the vining peas was drilled on the 28th September at the standard seed rate of 300 seeds/m2. This field was ploughed, pressed & combination drilled.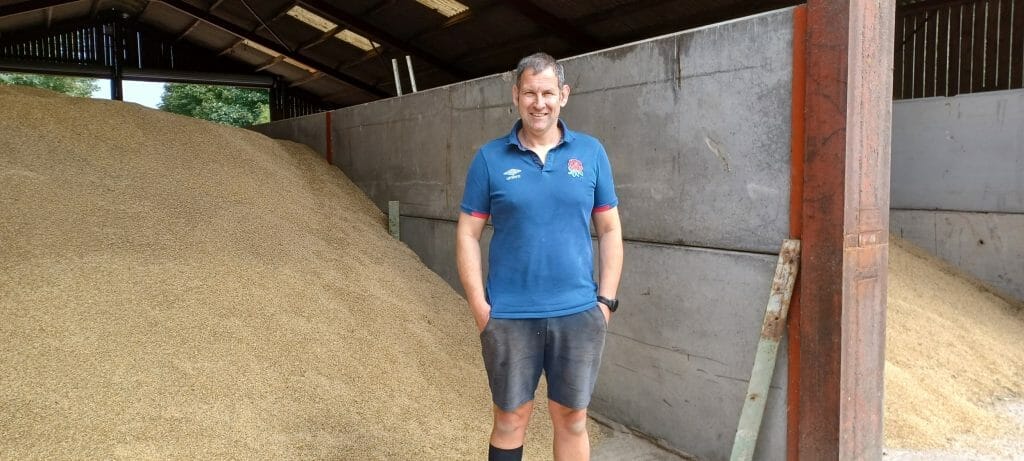 The field following the potatoes was min-tilled and went in a bit later, on the 23rd October, with a slightly higher seed rate of 350 seeds/m2, to compensate for the later drilling.
Both fields established well and looked pretty good. "We don't have too much of a black-grass issue, so a pre-emergence application of flufenacet and diflufenican at 0.4 l/ha and some Avadex, pretty much tidied up any weeds," explains Mark.
Disease-wise, the crop stayed clean with a standard fungicide programme, and received 160 kg of Liquid N32/ ha, which was reduced slightly due to the increased fertiliser costs at the time.
"It's a fairly tall variety, so we used a 'bottom-shortening' PGR, chlormequat, but I think the crop would benefit from a 'top shortener' as well next time, just to reduce its height that bit more, although it's important to note the straw strength was good and we didn't have any lodging or brackling issues."
"Both fields were ready to harvest by the third week of July, but the wet weather meant the field following the vining peas was ready first on the 31/7 but we had to hold on for another week for the second field, again due to the weather."
"Despite this, the crop held its own, germ still looked good and bushel weight held up with no sprouting. The straw came off well; all of which goes for home use," he adds.
"It is always interesting growing a new variety for the first time to see how it performs, and we are very pleased with LG Caravelle and will grow it again. If we could, we would put all of our acreage down to the variety," says Mark.
---
LG Caravelle joined the 2023/24 Recommended List as the highest yielding two row winter barley.
"We launched the variety not just on the back of its high yields but with a confidence that the variety would deliver across a range of conditions," says Ron Granger, Limagrain's arable technical manager.
"The years running up to its recommendation were dry and the variety yielded exceptionally well, however this season has been much wetter but LG Caravelle has upheld its promise of consistency and delivered the yields – and that's a very valuable attribute on farm."
Ron explains LG Caravelle's yield potential is backed up by its specific weight. "Specific weight is important no matter what, and LG Caravelle's is very high at 71.8 kg/hl. It's one of the best scores available and is only surpassed by KWS Cassia."
LG Caravelle's yield potential is also bolstered by its disease resistance profile, says Ron. "The variety has a 7 for mildew, a 6 for rhynchosporium and a 5 for net blotch," he explains. "Although there's no rating on the RL yet, our data indicates the variety scores a 7 against brown rust, which is high against this disease."
The variety also has resistance to barley yellow mosaic virus, giving it all round disease resistance, he adds. "The culmination of this can be seen in its untreated yield." "It has a very high untreated yield of 89%, which really gives growers security," he adds.
Ron feels that growers who've been growing hybrids might be interested in returning to two-rows because of LG Caravelle's performance. "Hybrids account for about 20-25% of the winter barley market but this could change. Plus, we're currently testing to see if LG Caravelle could be suitable for more than just the feed market."
"We're seeing the next step in on-farm varietal security for farmers and these types are proving to be an option on-farm again."
---
Fungicide programme:

Esfenvalerate 2.50%, was applied at growth stage 14.

6th May: T1 consisting of Cyprodinil 30.00%, Tribenuron-methyl 14.30%, Metsulfuron-methyl 14.30%, Florasulam 0.25%, Fluroxypyr 10.00%, Trinexapac-ethyl 25.00%, and Folpet.

6th June: T2 consisting of prothioconazole 25.00%, trifloxystrobin 8.80%, and prothioconazole 17.50%.

Thriving in Ireland – How OSR has found its place in the Irish rotation
OSR hasn't always been the break crop of choice in Ireland, but it's gained popularity as a replacement for sugar beet since 2006, says farmer John Dunne and Goldcrop, arable trials & agronomy manager.
"Growers quickly realised how good a break crop it is and how both wheat and barley got a kick when grown after it, the kick in spring barley being seen for a few years after OSR.

"The planted area grew until 2012, when we had a bad harvest, and then faltered after a few varieties let growers down."

But the trade continued to push the crop and Harvest 21 saw 10,000ha harvested. "This grew to 14,000ha for Harvest 22 and is expected to be 19,000ha this year," he explains.

One reason for the increasing area has been down to better yields, says John.

"We've seen a 30% increase in yields over the past six years. Whereas growers would previously have achieved 3.95t/ha to 4.45t/ha, they're now regularly getting 4.94t/ha to 5.43t/ha – so it's a big increase."

But getting the crop sown in time can be a challenge, he says. "Planting OSR behind winter barley is fine, but trying to get it in after winter wheat or spring barley can be tricky.

"In 2006, growers started out with conventional varieties but they've moved towards hybrids over time. We have to be careful that varieties aren't too vigorous, but we'd rather be looking at the crop rather than looking for it."

Having traits such as TuYV resistance in varieties is really important to Irish farmers because the climate is quite mild, according to John. "When we get a frost, it's a notable topic of conversation here. And because it's so mild, we've had issues with barley yellow dwarf virus, and this made me wonder if TuYV was also nipping at OSR yields."

Working with breeders Limagrain UK who were the first to introduce the trait, Goldcrop took samples of varieties without TuYV resistance and found the virus to be consistently showing up. "Once you get your eye in for identifying the virus symptoms, you'll see a reddening of leaves at the edges of the field and along tramlines and the disease can take up to a third of the yield.

"Last year we saw headline varieties without resistance falter in our official trials, whereas resistant varieties took this risk out of the equation."

According to John, Irish growers have also had more trouble with light leaf spot than with phoma and so really value highly resistant varieties.

"LLS has always been the tougher beast to my mind and in some years the circumstances play into it with higher pressures, especially when there are nearby OSR stubbles. As the disease cycles so frequently and repeatedly, it can be hard to control and is the most damaging disease we have, so having genetic resistance is a huge help."

He also feels that pod shatter resistance has to be standard in all varieties. "Our climate is tricky, so to have something that won't shed is a big safety net. I can't really believe that varieties still come to market without it."

Irish farmers have become very fond of growing OSR, adds John. "It's an essential part of the rotation for many, so having stacked traits to secure its future place here is important."

Liam Wilkinson, product manager for OSR at Limagrain feels that the Irish OSR area has increased because of access to varieties with stacked traits. "If a disease is going to be found in any crop, the Irish will normally get it, but having new genetics in place has really helped secure OSR's place in Ireland."

LG Skyscraper is perfect fit for Fife growers
Consistent yield performance over several seasons, strong agronomics and suitability for later drilling, have seen soft wheat LG Skyscraper become a mainstay of the rotation for two Fife growers.
Tenant farmer and contractor, Zander Hughes, who farms 320 ha (800 acres) of combinable crops for a range of clients, has been growing the variety for several years, and has 81 ha in the ground for this harvest – his whole winter wheat area. 
"We saw LG Skyscraper in trials a few years ago and liked the look of it. It fits our main markets, as we grow predominantly soft wheats that tend to go for distilling at the local Cameronbridge distillery in Leven." 
But, it is LG Skyscraper's strong yield performance across multiple seasons, drilling dates, and rotational positions, that he most values, with yields averaging more than 10 t/ha over multiple seasons, and up to 13.5 t/ha at best. 
"Yield is king for us. We're always looking to achieve the biggest end margin, and that usually coincides with the highest yield. Importantly, our average is based on marketable yield, which is the actual weight sold to the end user, not just what the combine yield monitor says." 
Grain quality has been consistently good too, with protein typically averaging 10.5-11%. While this is not crucial to him from an end market point of view, especially as there are many local animal feed outlets should crops not go into distilling, protein content does provide a useful indicator of nitrogen use efficiency, he says. 
"Specific weight is a priority though, and all wheats have performed very well in recent years." 
Good straw yield is an added benefit, given strong demand from livestock producers in the area, he notes. 
---
Late drilling suitability
Most of Mr Hughes's LG Skyscraper is sown as a first wheat after either potatoes, vegetables (broccoli/ cauliflower), grass or spring barley, so he appreciates the variety's flexibility for medium to later drilling. 
"Around 60% of land is still ploughed, with the remainder established on a min-till system. We typically drill wheat in the third week of September, but have drilled anywhere from 20 August to 20 January. 
"This year we've got LG Skyscraper that didn't go in until the first week of December and still looks exceptional. The crop's all standing, looks strong, and clean. It's what you want a wheat to look like." 
Mr Hughes says LG Skyscraper has a fairly vigorous growth habit once it germinates, so he has no fear of sowing it later, as he might with some other varieties. "In general, it is pretty flexible, although is probably not particularly suited to early drilling."
Fellow Fife grower, Russell Black, near Cupar, also values LG Skyscraper's suitability for later drilling. This year, he is growing around 20 ha of LG Skyscraper, plus 20 ha of LG Spotlight, with all LG Skyscraper sown as a first wheat after potatoes on good quality loam soils.
"We usually don't start drilling wheat after potatoes until the end of October, so tend to work with quite high seed rates to ensure there are sufficient tillers. At the end of October, when conditions are cooler, days are shorter and the ground is wetter, we might be sowing 500 seeds/m2, whereas in September we'd be down at 350-400 seeds/m2." 
Most land is ploughed before drilling, with compound phosphate and potash fertiliser applied with seed and three equal splits of nitrogen, plus sulphur in the spring. 
"We're looking for a target yield of at least 10 t/ha, and that's what we're consistently achieving," Mr Black continues. "This is our fourth year of growing LG Skyscraper and it's been a very consistent variety, in terms of yield and disease." 

---
Easy to manage 
Both farmers believe LG Skyscraper is a fairly straightforward variety to grow, with strong agronomics. 
Despite being slightly taller-strawed, lodging has never been an issue for either grower, and no major disease issues have been seen. 
Mr Hughes typically employs a four-spray programme, T0 to T3, with robust rates of good chemistry, and tight spray intervals. 
LG Skyscraper's resistance to Septoria and yellow rust was put to the test this season, when wet weather in February and March meant the T0 could not be applied to any of Mr Hughes's wheat, and crops faced relatively high disease pressure. 
"Normally, we'd also have applied a growth regulator with the T0, so despite missing one growth regulator and one fungicide, it still looks exceptionally good at the moment. We're getting on really well with it." 
Mr Black describes LG Skyscraper as an excellent "farmer-friendly variety that's not challenging to grow and is easy to manage". "It really suits our farm and what we're trying to achieve." 
He recognises that with the farm being within a Nitrate Vulnerable Zone (NVZ), which limits nitrogen applications, and most LG Skyscraper sown late, yields might be slightly restricted, so he is keen to see how the variety will perform when sown earlier. 
"We are looking to go back into oilseed rape this autumn, after not growing it for a few years due to clubroot problems. This will give us the chance next year to sow LG Skyscraper in September, which I'm really looking forward to. There might be a better variety for the earlier-sowing slot, but if not, then it will be LG Skyscraper. 
"I want to focus on growing first wheats as our land is too light to support a decent second wheat. With the cost of inputs, you can't afford to have an 8 t/ha crop anymore; it doesn't stack up." 
Like Mr Hughes, Mr Black says LG Skyscraper has always been a fairly clean variety, with his crops also getting a four-spray programme, which this year included Revystar XE (fluxapyroxad + Mefentrifluconazole) at T1 and Univoq (Fenpicoxamid + prothioconazole) at T2. Fungicides are generally applied at half-rate to keep costs down, he notes. 
Most of Mr Black's LG Skyscraper also goes into the Cameronbridge distillery, although in the past he has managed to sell some for biscuit-making, gaining a slight premium over the feed price. Quality-wise, it performs consistently well, with specific weight often hitting 80 kg/hl, resulting in a nice bold grain sample, he adds. 
"It's a consistent variety all-round. I like it, so plan to grow it again after potatoes this year, then we'll see how it does after oilseed rape next year." 
Mr Hughes acknowledges he is always looking at other varieties, to see what is best for the farm business, but currently has no plans to change. "At the moment, I think 80-90% of our 2023/24 acreage will be LG Skyscraper again. Until I see a reason to change to something better, or LG Skyscraper lets us down, then we will continue growing it."

Regen Farmer Looks to LG Typhoon for Low-Input Approach
Regenerative practices that are less reliant on artificial inputs require farmers to select varieties with attributes that can help them thrive in such conditions. 
It is something East Yorkshire farmer, Jonathan Hodgson of I M Hodgson & son Ltd, recognises, after converting the 280 ha farm, to a reduced input, strip tillage system in 2019.
There is a diverse rotation on the medium to heavy clay farm, east of Hull, featuring winter wheat, oilseed rape, spring barley, spring oats, winter beans, vining peas, flax, and herbal leys. Cover crops are grown ahead of spring crops, while short-term catch crops are also included wherever possible, namely after vining peas, or oilseed rape, ahead of wheat.
"We're trying to build diversity into the rotation, but our primary focus remains on first wheats; that's what we're always trying to get back to as quickly as we can," says Mr Hodgson.
This season, he is growing a range of varieties, including 20 ha of the hard Group 4, LG Typhoon, alongside LG Astronomer for seed, trial areas of LG Aldaniti and LG Redwald, plus Costello, KWS Extase, Theodore, and a four-way blend trial.
It is the second year of growing LG Typhoon, after a successful 3 ha trial of the variety last year, on land previously in pasture.

Desirable traits for regen
Mr Hodgson's decision to grow LG Typhoon followed a conversation with Limagrain UK's arable technical manager, Ron Granger, who says the variety has certain attributes that suit strip tillage/ direct drilling, regenerative crop establishment systems.
Mr Granger says LG Typhoon had been on the farm in a Limagrain UK demo trial, alongside commercial and up-and-coming varieties, for a couple of seasons, and it was clear the variety offered better suitability for the direct drilling, wider row situation.
"It was a stand out variety," says Mr Granger.
LG Typhoon's growth habit, for example, means plants sit prostrate with slower growth through the winter into spring, which is ideal for those direct drilling earlier in the autumn and do not want a variety that will race off too quickly.
It is high tillering and has the capacity to utilise the space between the wider rows, often found with some direct drilling equipment. Indeed, Mr Hodgson's Mzuri drill has a relatively wide row spacing of around 300 mm centres.
LG Typhoon's strong standing power and disease resistance – reflected by its high untreated yield (92%) – further suits those looking for flexibility with crop protection inputs, Mr Granger says. Unlike some feed varieties, it also offers Orange Wheat Blossom Midge (OWBM) resistance, in addition to a six-rating for eyespot and Fusarium.
"It's a high yielding, consistent and resilient variety, that delivers across seasons and rotations."
For Mr Hodgson, the biggest draw is LG Typhoon's robust disease package, particularly the Septoria rating of 7.3, and yellow rust rating of 9.
"That's what I look for in a variety, probably more so than outright yield. What can it offer in terms of agronomy, and is it a good, stable, variety that will let me look after a crop how I want to, instead of relying on a can to keep it clean?"
---
Cutting inputs
Last year's LG Typhoon lived up to promises, yielding 11 t/ha from limited inputs – about 10% up on the farm's five-year average yield.
The crop received two fungicides – 0.5 L/ha Amistar (azoxystrobin), and 1 L/ha Verydor XE (fluxapyroxad + Mefentrifluconazole) – and a total of 160 kg N/ha.
"We have been trying for a number of years to reduce fungicide inputs, but last year was the first time we've done so on a farm-scale, albeit helped by relatively low disease pressure."
Indeed, one variety on the farm did not receive any fungicide inputs in 2022, and still yielded over 10 t/ha. Other crops did receive fungicides at different stages of the season, reflecting Mr Hodgson's desire to remain flexible and adapt to the conditions.
"We want to be flexible. If the plant looks healthy, I won't put a product on, but if it needs one, we will still use a fungicide. Last year, some crops had a T1, others got a T2, and some first wheats had a T1.5 instead of a T1, as that's when we decided to go on. We won't rule out using fungicides, but it's a measured approach, field-by-field and variety-by-variety."
While looking to reduce reliance on fungicides, Mr Hodgson is keen to support plant health in other ways, notably through more targeted nutrition, utilising in-depth soil testing, and sap analysis, to determine requirements.
He is also changing the way nitrogen is applied, by moving to a "little and often" approach, rather than applying large amounts in one go, which can cause surges of weak growth fuelled by simple sugars, potentially making plants more prone to lodging, and attack by pests and disease.
This approach typically sees 160 kg N/ha applied in four liquid applications of 40 kg N/ha every 15-20 days, from early to mid-March onwards. A carbon source is included with each nitrogen application to improve uptake efficiency. Programmes are completed with a final foliar nitrogen application. "This only provides about 10 kg N/ha, but the nitrogen use efficiency is far greater than applying nitrogen to the soil," notes Mr Hodgson.
"Our aim is to keep plants healthy and growing at a consistent, steady rate, instead of causing surges of growth that need to be managed with PGRs."
Additional fertility comes from the 1,100 tonnes of pig manure produced on the farm each year, applied on a rotational basis.
---
Supporting establishment
Mr Hodgson acknowledges that in the first years of converting to strip tillage, establishment was lower than with conventional tillage, as soils took time to adjust.
Seed rates were therefore increased to compensate. This season's 20 ha block of LG Typhoon, was sown at 400 seeds/m2 on 27 September, after oilseed rape, using home-saved seed, with no dressing (just cleaned in a mobile seed plant and tested for fusarium).
"However, we are now seeing an improvement in soils and drilling conditions, so I think we can start to reduce seed rates slightly. It's been a steep learning curve."
To support crop establishment and soil health, Mr Hodgson also includes two liquid products – fish hydrolysate and humic acid – in a band with seed at planting. "The hydrolysate is full of amino acids, so the idea is to prime the soil by helping the biology."
No starter fertilisers are used, and he points out that no phosphate or potash has been applied for the past four to five years. "Most soils have tonnes of P and K; we just need to be better at getting plants to access it."
Mr Hodgson says this year's LG Typhoon established very well in a relatively kind autumn and winter, growing on well through spring. Disease-wise, it looks "pretty clean", despite having not received any fungicide, or growth regulator, up until the time of writing (beginning of May).
"There is more disease pressure this year than last, so we'll have to remain on the ball and keep checking crops.
"It generally takes two to three years to get to know a variety properly, so it is still early days, but so far, LG Typhoon seems to suit our system."
---
LG Typhoon
High yielding, consistent Group 4 feed wheat
Strong disease resistance, particularly Septoria (7.3) and yellow rust (9) – 92% untreated yield
OWBM resistance, good standing ability
Adaptable drilling dates – suits early drilling, also excellent as a second wheat
High tillering capacity and a slower, prostrate growth habit through winter into spring, and the plant's ability to fill space, suits wider row direct drilling re-gen systems.
OSR: East Vs West
Meeting the challenges of growing oilseed rape has brought the value of both genetics and crop management practices into the limelight more than ever before. We look at how two growers on opposite sides of the country use these tools to tackle their challenges.
Despite the challenges of flea beetle, slugs and pigeons, oilseed rape is a good break crop for Emma Fletcher who farms 700 ha with her brother on the Leicestershire/Warwickshire border.
"It fits well in the rotation as a profitable break crop, going in after winter barley and before wheat"
The oilseed rape at Burton Fields Farming Ltd is was established via direct drilling with a 9 meter Dale direct drill. "The aim is to drill the crop in August, but the most important thing is to drill into moisture."
"We have a tick list for the characteristics and traits a variety has to offer," says Ms Fletcher. "Fundamentally we need it to be consistent, we don't want a volatile crop that yields well one year and then lets us down the next."
"Aside from robust agronomics, we also need it to have really good autumn vigour, good disease resistance and we also look for a variety that offers pod shatter."
"Aurelia ticks all of the boxes, and we were pleased with it in our first year of growing it in 2021 & 2022. We look for the rape to yield 4+t/ha.
"This year's crop was drilled slightly later than we would have liked which meant it went in at the beginning of September rather than the last week of August, as we held off for a bit more moisture," she explains.
"We had a few issues with CSFB in the spring. Despite drilling at low seed rates some areas have come through thicker than we would have liked, which we put down to volunteers, and the beetle seem to favour this thicker crop."
Emma explains that having split hopper on the drill allows for companion crops to be sown at the same time. "Last year we established the OSR with buckwheat. Every other coulter was buckwheat or oilseed rape. We were really pleased with the results and the buckwheat then died off with the first frost."
"However, this year the OSR has been drilled with a mix of buckwheat and berseem clover, so we shall see if that has made a difference."
Nutrition at Burton Fields Farm is on a responsive approach with tissue tests being taken season-long and we prefer to respond to these results rather than simply going on with a blanket approach, points out Miss Fletcher.
"This season we have kept it fairly simple with the disease control and tried to utilise nutrition as best possible. In the autumn sewage sludge is put into the seedbed to enhance autumn vigour."
"Slugs are often a problem in the autumn so traps are used to treat when the threshold is met. PGRs at this time are also very important; sheep have been considered instead of this but there are downsides to using them so we are holding back for now."
Over in the north west of the country, Richard Reeves of Tattendale Farm has been growing OSR for 40 years.
"We are a fairly traditional arable rotation on a tenancy agreement with Tatton Park Estates, of which OSR is an integral part.  We look for yields on average of 4.5t/ha and prefer varieties that we can rely on for a consistent yield."
"On the advice of our rep, James Hood from United Oilseeds , we opted for Aurelia a couple of years ago and will stick with it again this coming season as it has delivered what we need. It comes though well in the autumn, its vigour is stand out and we haven't had any issues with disease."
"We tend to keep things fairly simple as this has always worked for us. The OSR follows barley or early wheat," says Mr Reeves.
"Waiting for moisture to drill in the autumn is not so much of an issue where we are so we aim to drill in the last two weeks of August, any earlier and we find the crop gets too proud."
"As we are not in a predominantly arable area, CSFB is not so much of an issue, pigeons are our challenge."
Our soils take the plough well, so we plough and combo drill the rape straight after, which traps the moisture with the seed."
Seed rates are around 3kgs/ha. We apply about 140-150kg/ha Nitrogen across two applications of granular product and then top up with liquid. This year we are looking at going on twice with a foliar application as we have found that this increases the oil content. We also apply Sulphur in an N:S mix.
"A single PGR is used in the autumn, and a fairly standard fungicide programme as we have so few disease issues with the Aurelia."
---
"At the end of the day farmers want yields as this is what they get paid for, so growing a variety that the best chance of reaching its yield potential is key," says Liam Wilkinson of breeders Limagrain UK.

"Growers can put in all the leg work, but are still being thwarted by elements beyond their control, which is where plant breeding steps in to protect yield by breeding stacked traits into varieties,"

 Beckii Gibbs, seed manager with United Oilseeds, believes that Aurelia's offering of fully loaded traits, excellent disease resistance, proven performance and good vigour makes it a firm favourite with farmers.

"Aurelia has been the number 1 variety on farm for a number of years now. The fact that it holds a 30% share of the UK certified hybrid seed market speaks volumes. From our farmers' perspective, it's a reliable and consistent variety and is likely to remain a popular choice particularly with the good yields Aurelia achieves year on year."

LG GatePost Newsletter – June 2023
The June 2023 issue of LG GatePost is now available to download.
This edition features articles about our newest wheat addition to the 2023-24 AHDB Recommended List, LG Redwald, as well as LG Caravelle, our excellent 2-row winter feed barley.

You can read about and view our Live Panel event which was a round table discussion on Varieties, Soils and Policy with industry experts.

We discuss the new Sustainable Farming Incentives and the new 'actions' involved, with an article about why to consider establishing a legume fallow.

There is also information about our upcoming Demo Days and a link to register.

Download the June edition here, and don't forget to claim your BASIS and/or NRoSO points for reading it.

LG Denmark Study Tour

In the spring, Limagrain took a group of UK growers to Denmark, to look at regenerative and conservation agricultural practices.

After two full days of visiting farms, agronomy companies and a plant breeder, there was some very interesting and surprising feedback:

GEORGE ATKINSON, LINCOLNSHIRE: "It's been fascinating to see all the different farming systems, and also learn about Danish policies that contradict themselves. I was expecting to come and see the future, but some of the growers are where we were 15 to 20 years ago."

AL BROOKS, HAMPSHIRE: "I came here with a preconceived idea that we were going to learn something from the Danes in terms of their view towards conservation and regenerative agriculture. I was stunned by the amount of red tape they are subjected to. They are constricted in the industry and don't have the voice with government."
TIM PARTON, STAFFORDSHIRE: "I think the government advisors in Denmark need to take a real hard look at what they are trying to achieve, and what their directives are. They are so restrictive; they are missing out on the big benefits they could be getting from regenerative and conservation agriculture. They need to help their farmers more, rather than restrict them."
---
"Discovering that UK farming practice with regards to conservation agriculture or regen is ahead of Denmark, was a surprise to many on the trip, and a real positive take home message for the UK.
It's very noticeable that plant breeding is paramount to the future direction of agriculture, as practices move towards lower input and better disease resistances. Limagrain look forward to sharing what we do with growers from the UK and abroad," says Tom Barker of Limagrain, who hosted the trip.

Download the latest edition of LG GatePost here

Achieving High OSR Yields Despite the 'Weather Gods'
For David Fuller-Shapcott who farms near Kelso in the Scottish borders, beating the weather is a constant challenge.
"Autumn's are very short and wet, which means we battle to get crops established and it can be difficult to travel in the spring so spray timings can also be difficult. Whilst at the other end of the season we need to leave crops in the field that bit longer to maximise sunlight and keep biomass growing for as long as possible," he explains.
However adapting cultivation and establishment techniques, a focus on soil health and a large amount of patience has brought success to the cropping at Sweethope Farm.
Mr Fuller- Shapcott's crop of Ambassador oilseed rape took the Bronze award in the 2022 national ADAS YEN competition yielding 7.33t/ha. This is not his first YEN win for oilseed rape, in 2019 he won a YEN Bronze award for a crop which yielded 6.4t/ha, calculated as 63% of its yield potential.
Oilseed rape is the main autumn break crop at Sweethope Farm in a rotation that maximises first wheats. Oilseed rape is grown one in six which usually means about 45-50ha is grown in any one year. Spring barley is grown for the local distilling market and winter barley for brewing. Soils are heavy clay and run up to over 200m above sea level.
The farm also features 32ha of permanent grass used as grass park lets for cattle and sheep, plus 17ha of mixed woodland.
YEN 2022
Oilseed rape establishment at Sweethope is based on a cultivator, using nine narrow and shortened subsoiler tines, to create relatively undisturbed slots ahead of a heavy packer. A row of 9 disc coulters and covering tines follow the packer.
The crop entered for YEN in 2022 was drilled into a field of fairly virgin oilseed rape soil following winter barley after five years of grass.
"This meant less slug pressure, which can often be more of an issue than CSFB, with our heavy, cold soils. As it was after grass we didn't have a cover crop in this particular field," says Mr Fuller- Shapcott
"The crop was drilled on 27th August at 2.2kg/ha -targeting 20-25 seeds/m2 – the aim is to have 22 stems/m2 at harvest. I am looking for large single plant, not a field of cress," he says.
"I chose to grow Limagrain's hybrid, Ambassador for several reasons."
"We moved into hybrids for their vigour in the autumn. I don't want too much vigour in the spring when I cannot travel and keep up with the crop."
"It's not just one of the highest yielding varieties on the AHDB Recommended List, but also offers a very high oil content and this boosts gross output. I have found varieties with inherently low oils harder to push."
"Good light leaf spot resistance up here is key and Ambassador offers one of the highest resistance ratings of 7. It also offers pod shatter resistance which is very valuable."
Mr Fuller-Shapcott points out that Ambassador also offers N-Flex which minimises yield losses in sub-optimal N conditions, making a variety adaptable for both high and low input scenarios.
He was interested to see what the benefits of this would be on his own soils and nitrogen regime, so in 2021 he carried out a small farm nitrogen trial looking at rates and timings between Ambassador and sister variety Aurelia, that does not offer N-Flex.
He found that at lower nitrogen levels, Ambassador performed as well as Aurelia at normal nitrogen levels.
He believes that this provides the crop with flexibility. "If ground conditions are too wet or the weather closes in before we can get on with fertiliser in the spring, we are not compromising the potential of the crop too much- it gives us that really valuable leeway."
Mr Fuller-Shapcott enjoys being part of YEN and believes the learnings from it are incredibly valuable." YEN has taught me importance of canopy structure in oilseed rape and how to manage this to achieve a particular yield and we work to this. We know that if we have 100,00seeds/m2 and a 5.0 TSW we are looking on average at a 5t/ha crop."
"To achieve this we want to influence the structure of the canopy to promote podding at the top, aiming for an 'oak not a pine'," he says.
"I take a very much balanced approach to crop nutrition – not pushing the crop too hard but enough to produce a decent output with justifiable inputs. I have learned from YEN that it is worth feeding the crop well from the beginning; little and often."
"For this crop I was aiming for about 160kgN, but in fact ended up applying less, only 133kg but this does not appear to have impacted the crop performance – and we put this down in some part to the N-Flex ability of the variety."
"Fertiliser in liquid form is applied down the spout at drilling (subcasting), which increases rooting. Spring nitrogen goes on as soon as its possible to travel. For this crop that was around the 20th March when 66kgN went on."
"On the 12th April we applied the same again, both doses using a 30%N and 9% sulphur liquid (W/V) with trace elements."
"With OSR we always make sure there is adequate Boron, and tissue testing through the season gives me an insight into what the plant needs at different times," he says.
Disease control is started as soon as he can travel, with a keen eye on Light Leaf Spot. "Last season the first spray was around the third week of January, this was followed up on the 18th April with a PGR and fungicide, and again at the end of flowering."
"Magnesium, phosphorus and potash, also went on at this timing to help build seed size."
Mr Fuller-Shapcott doesn't rush to desiccate. "If we think the crop is ready, we try and leave it for another week – which does require a large amount of patience! But we have found it pays off, as it means we never have any red seeds."
"This crop was desiccated on 26th July. Usually our rape crops have a birthday, but last year it was ready early and was combined on the 14th August- and the rest as they say is now in the YEN records!"
---
David was Arable Innovator of the Year in the 2018 British Farming Awards, Agriscot Scottish Arable Farmer of the Year finalist in 2018 and Scottish Rural Awards (Agriculture) finalist in 2019, Farmers Weekly Arable Farmer of the Year finalist 2019 and Scottish Land & Estates award winner 2019.

2016 saw Mr Fuller Shapcott take second highest potential yield prize in ADAS's Yield Enhancement Network (YEN) wheat competition, achieving over 60% of the crop's calculated potential yield.

This was a step up from 2015 when a yield of 14.2t/ha gave him the bronze potential yield award in a bumper harvest year when just across the border Northumberland grower Rod Smith broke the world record with a yield of 16.52t/ha.

Surprise Success for Scottish Oilseed Rape Crop
The Lawson brothers, Mark, Philip and Ben, farm in Newton Stewart in Dumfries and Galloway – tucked into the bay just before Stranraer – generally not an area renowned for producing award winning oilseed rape crops. However Mark's crop of oilseed rape won a silver award in the 2022 YEN awards with his crop achieving 84% of its potential yielding 7.39t/ha.
"When the awards were announced we couldn't believe it. It was really unexpected, we never expected anything like that from a crop on this farm!" says a delighted Mark.
"It's really wet here – and the soils are not the best- they tend to run to shallow stoney – which although gives us some reprieve from the rainfall as the water runs through it – also means we don't have lovely, deep soils for the crop to sit its roots down into – not the best for highest yielding crops."
Airlies farm stands out amongst its neighbours as it's a purely arable rotation, bar some bed and breakfast cattle, in an area that traditionally is all livestock farming.
The Lawson's bought, what was then a purely a livestock farm in 1989. However increased costs to transport bought in feed for the herd meant they started to grow their own. Over the years, the arable side has taken over and now have a rotation based on wheat, barley and oilseed rape. Grass is grown for silage and the rougher pastures support sheep.
"Our farm average oilseed rape yields can be around 3.7 t/ha but if we can push this to 4.2-4.4t/ha we are happy with that."
"It hadn't really occurred to us to enter YEN. We didn't think we had much hope of winning anything and were unsure what we would gain from the experience, but a conversation with our seed advisor, Douglas Bonn of Nickerson Seeds convinced us to enter.
"We had a field of Acacia oilseed rape that looked good and showed promise, so on discussion with Douglas we were persuaded to enter part of that field."
"We used to grow variety Anastasia, so it made sense to move onto Acacia."
Bred by Limagrain UK, Acacia is the most popular conventional variety in the country with proven strong autumn growth and good spring vigour, solid disease resistance and short, stiff straw, combined with a high oil content and yield.
"Whilst there has been a tendency to move into hybrids generally, many growers have found that Acacia delivers the vigour and consistency of performance that they are looking for," explains Douglas.
He explains that Mark has always been interested in improving what he does on farm, so when the crop showed so much promise it made sense to enter it into the YEN for the valuable feedback gained from the judging.
Award winning cropping
"All in all it was a pretty easy season on the crop, says Mr Lawson." Autumn 2021 had been really kind –  all the crops drilled in good time. With the high levels of rainfall here our biggest challenge is getting the crops in the ground in good time."
"Following winter barley, the oilseed rape was drilled into a nice dry seed bed. We min-till using a Simba Xpress which creates a good tilth for the seed. Seed rate was 3.55kg/ha – with an aim for an established plant count of 24 plants/m2."
With regards to agronomy of the crop, Richard Bray, agronomist with Agrovista based in south-west Scotland says "It was a season when everything came together."
"The crop came out of the winter well, so we included growth regulation at stem extension as we wanted to avoid a lodged or leaning crop that would not mature evenly or maximise pod fill. In with this, we also applied a broad spectrum foliar feed," he says
"Tissue analysis highlighted the crop was still short of boron. So we addressed this at the early flowering stage with a 4-way mix containing boron, a carboxamide and triazolinthione fungicide for sclerotinia, a bio- stimulant to boost yield by increasing the numbers of seed per plant and an adjuvant to aid uptake."
Mr Bray points out that as the flowering period can last many weeks this far north, a second mix at mid-flowering was applied but with the addition of a crop enhancer to increase chlorophyll production and maximise green leaf area.
"As far as weeds and diseases go, we can have issues with sterile brome but the oilseed rape does allow us to clean that up reasonably well. Light leaf spot can be an issue but again we were able to keep on top of that in the spray programme.
"It really is very rewarding for the Lawson's to achieve this success and do so well against the more recognised arable areas of the east," says Mr Bray.
Harvest promise
Mark explains how exciting it was when the combine started working in the field of Acacia. "We started harvesting on the 5th August in a neighbouring field and that looked pretty good, so we were very hopeful when we moved into the YEN crop – and in fact we struggled to get it all into the trailer- so we knew we were onto some high yields."
"Entering YEN has been a really positive experience, we have learnt so much and will use what we can in this year's crop. We will definitely enter YEN again there is always more to learn and build on from last year. Our objective is to be able to produce this level of yield consistently, year on year."
---
Why did OSR yield so well in 2022?
A decade of YEN research shows that while light and water availability remain critical limiting factors to yield potential, successful crops are those with optimal biological growth to convert the energy available into grain.
Maximising biomass puts crops in a prime position to convert sunlight into yield, even if that yield potential is limited by factors beyond your control. So how did 2022 fare?
Looking at 2022 season:
Analysis by YEN of historic weather patterns and OSR yields have revealed that high yielding seasons are associated with a warm October, dry December, warm minimum March temperatures, dry/sunny April and a wet/cool May.
The 2021-22 season was characterized by a warm October, a dry December and winter, average March temperature, a dry sunny April and an average rainfall and warm May.
The dry spring helped to restrict canopy growth which will have helped optimize canopy size at flowering for good seed set and reduce the risk of lodging.
The sunny conditions in April will have helped crops to set many pods. Rainfall in May will have been particularly beneficial for crops suffering from the earlier dry spring conditions, but the dull conditions might have restricted the number of seeds set per pod.
On the whole, conditions were conducive for setting high seed numbers and hence higher potential yields