Limagrain varieties top the 2024/25 AHDB Recommended List
Plant breeder Limagrain's winter wheat LG Beowulf and 2-row winter barley LG Caravelle, are the highest yielding varieties to join the 2024/25 AHDB Recommended List.
LG Armada also takes lead position as the highest yielding oilseed rape variety on the Recommended List for the UK, whilst LG Adeline takes pole position for oilseed rape in the North.
In addition, high yielding maize variety Saxon tops the 2024 BSPB Forage Maize Descriptive List for ME yield ('000s MJ/ha).
This means that LG now offer the highest yielding varieties in; winter wheat, 2 row winter barley, OSR and maize*.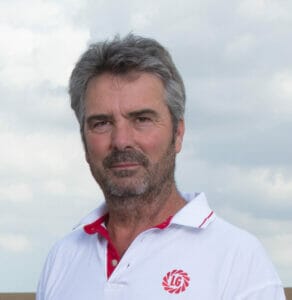 "This is an exceptional achievement for any breeder," explains Ron Granger, Limagrain's arable technical manager.
"Last year saw our winter wheat and winter barley varieties take pole positions across the RL. We have built on this success for a second year running, producing higher yielding varieties, backed up with desirable agronomic characteristics, securing high yield performance on farm. What's more, these varieties have proven to be robust and consistent performers across seasons and regions."
Highest yielding winter wheat
Group 4 hard wheat LG Beowulf yields 106% across the UK and shows the same consistency of performance across all regions: east (106%), west (106%) and the north (107%) – an outstanding achievement for any variety.
LG Beowulf has produced these exceptionally high yields consistently in National List and RL trials over regions and seasons, in both the unusually dry summer of 2022 as well as the exceptionally wet summer of 2023. Alongside these yields, it offers a good grain quality, with a spec weight of 78.3 kg/hl.
"LG Beowulf is much like LG Skyscraper; it performs wherever you grow it," he says. "It can be drilled early or late – providing growers with a wide drilling window, as a first or second wheat, on light or heavy land, and there are very few varieties that meet this criterion," he says.
LG Beowulf yields are backed up by a set of strong agronomic characteristics, offering an excellent disease resistance profile with ratings of 9 for yellow rust, 6.7 for septoria, as well as orange wheat blossom midge (OWBM) resistance.
It has very stiff straw and is rated 8 for standing in untreated and PGR treated trials, which strongly contributes to its reliability on farm.
"In summary, LG Beowulf is a very high yielding, robust and versatile variety that comes at a time when growers are looking more than ever to maximise output, in order to maintain profit in times of increasing costs," says Mr Granger.
Highest yielding winter barley
LG Caravelle is the highest yielding two-row winter barley for the second year running, since joining the Recommended List in 2023.
"Offering UK yields of 105.6%, LG Caravelle continues to dispel any misconception that two row barleys are lower yielding than hybrids. The variety certainly competes with the best yielding hybrid barleys, especially in the east," says Mr Granger. "LG Caravelle is competitive in a black-grass situation, another characteristic that is normally associated with hybrids."
"LG Caravelle's high yields are backed up by an excellent disease profile, reflected in its superb untreated performance, it is early maturing with stiff straw and good brackling resistance."
"LG Caravelle also offers an exceptionally high specific weight for a winter barley, of 71.4 kg/hl combined with low screenings %," he adds.
"Indeed, LG Caravelle possesses all of the key characteristics for a winter barley."
LG Capitol is a two-row winter barley that joins the Recommended List this year and is a sister variety to LG Caravelle, offering similar yields and consistency of performance over seasons and regions. Its yields sit just 0.1% behind that of LG Caravelle, at 105.5%.
LG Capitol also combines a high specific weight and ripening, similar to KWS Tardis, with a solid disease resistance profile and good straw attributes.
Highest yielding OSR
The top three highest yielding oilseed rape varieties on the 2024/25 AHDB Recommended List all come from the Limagrain stable, offering exceptional consistency over regions and seasons.
LG Armada tops the UK and E/W List at 107%, LG Academic follows 1% behind at 106%, with LG Adeline taking pole position on the Northern List with an outstanding yield of 108.3%.
LG Armada is one of the next generation of versatile high yielding oilseed rape varieties, improving on the characteristic trait loaded-hybrids that growers have come to expect from Limagrain.
"'Ambassador-like' in its growth habit, LG Armada has strong autumn vigour, is robust, with good adaptability to all regions of the UK," says Limagrain's oilseeds product manager, Liam Wilkinson.
"LG Armada is the first of our seventh generation of hybrids, bringing new maintainer and restorer lines to our OSR portfolio. This effectively means we are bringing varieties to market offering a stacked portfolio of much improved stem health attributes, alongside the standard pod shatter, TuYV and RLM7 resistance traits."
"We know stem health is key to driving consistent oilseed rape yields across farms and with these seventh-generation hybrids, we are seeing bigger stems and better rooting which also results in higher oil content," he says.
Highest yielding maize
Limagrain's maize variety, Saxon was added to the BSPB 2023 Forage Maize Descriptive List and has made the top of the list for 2024 for its dry matter yields of 19.1 t/ha, making it ideal for all uses, including anaerobic digestion.
"On the Descriptive List, Saxon yields 105% of the average and additionally is quite an early variety with an FAO of 180," says Tim Richmond, Limagrain's product manager for maize.
"Saxon combines superb early vigour with good standing power, making it perfectly suited for all mainstream maize sites."
"LGAN has long been the watchword for maize varieties that deliver what really counts – high yields of high-quality feeds that sustain excellent milk yields. Saxon is one of the latest examples of the benefit of breeding varieties that deliver in the clamp."
To learn more about how any of these varieties could perform on your farm, click the links below;
* Data: 2024/25 AHDB RL / *2-row winter barley. 2024 BSPB NIAB Forage Maize Descriptive List – First choice varieties for favourable sites by ME yield of fresh plant at harvest ('000s MJ/ha)
County Durham estate finds perfect variety fit for regen system
A large estate in the North east of England, has turned to wheat variety LG Typhoon as part of its drive to build a more sustainable regenerative cropping system.
The in-house farming operation of County Durham-based Raby Estates began conversion to direct drilling in 2018 and is striving to reduce the use of artificial inputs where possible, without compromising on the quality and quantity of crops produced.
It is a challenge that the variety lived up to last season, according to farm manager Philip Vickers, who decided to trial the variety on the recommendation of Limagrain UK's arable technical manager, Ron Granger.
"We're trying to move away from growing high input varieties, so are primarily looking for those that offer a robust disease package, good standing power and suitability for our direct drilling system," Mr Vickers says.
"Direct drilling in northern England is not something you want to be doing into November, so I also look for varieties that suit the early drilling slot. From what we've seen so far, LG Typhoon seems to fit our requirements well."
---
Strong performance
Last season the farm grew around 32 ha (80 acres) of LG Typhoon, alongside several other varieties, but Mr Vickers has been so impressed with its agronomics, ease of management and yield performance, that he plans to increase this to 100 ha for 2023/24.
The LG Typhoon averaged an excellent 9.4-9.6 t/ha. A number of weather-related challenges throughout the season however, including exceptionally high Septoria pressure, did not make for an easy growing season.
The LG Typhoon was direct drilled in mid-September as a first wheat after oilseed rape, using the farm's 6-metre Horsch Avatar, or 6-metre Väderstad Seed Hawk, drills. Seed rates were kept relatively high at around 300/m2, to counter the slightly lower establishment percentage experienced when direct drilling.
All crops received a base application of phosphate and potash fertiliser, plus a total of up to 170 kg N/ha in the spring, applied as three splits; the first as granular urea, followed by two liquid nitrogen applications.
"We have been reducing nitrogen use significantly in recent years, but in contrast to conventional thinking, some crop yields have gone up in that period," Mr Vickers notes.
"Agronomy-wise, LG Typhoon was problem-free," he continues. "It established quickly in the autumn, got away well in the spring, and was relatively early to harvest, tight behind Graham."
But even though it established quickly, he says LG Typhoon did not get too large, unlike some other varieties, which continued tillering throughout a very mild autumn, during which temperatures hit 21°C in November. Those varieties then became much harder to manage with growth regulators and fungicides in the spring.
---
Robust disease profile
Strong Septoria resistance is a must-have for all winter wheat varieties grown on the farm, as the disease remains the number one yield-robber in high pressure seasons such as 2023, Mr Vickers says. "We generally look for varieties with a Recommended List score of at least six."
With a Septoria rating of 7.3, backed up by a combination of genetics that are different to those in other RL varieties, giving LG Typhoon a distinct advantage over other varieties.
Although crops received the farm standard fungicide programme, based around Iodus (laminarin) at T0, bixafen/prothioconazole at T1, Univoq (fenpicoxamid + prothioconazole) at T2, and straight tebuconazole at T3, he was able to reduce rates by 10-15% on the LG Typhoon due to its robust disease profile.
"To ease management, we generally try to keep fungicide products similar across all varieties, but will look to vary the rate where appropriate.
"Despite doing so on the LG Typhoon, we still didn't see any disease of significance at all last season, even though there was very high Septoria pressure which caused some other varieties to struggle."
Accurate spray timing is also key to maintaining effective disease control, as is a robust trace element programme to bolster plant health and reduce the crop's susceptibility to disease infection, he adds.
---
Perfect fit for regen systems
Mr Granger says LG Typhoon has certain attributes that make it ideally suited to strip tillage/direct drilling, regenerative crop establishment systems, that often feature wider rows.
LG Typhoon's growth habit, for example, means plants sit prostrate with slower growth through the winter into spring, which is ideal for those direct drilling earlier in the autumn and who do not want a variety that races off too quickly.
It is a high tillering variety that has the capacity to utilise the space between the wider rows, often found with some direct drilling equipment.
Indeed, while Mr Vickers's Horsch drill works on a standard row spacing, the Väderstad is at a slightly wider 180-200 mm spacing, and he also trialed a new 12-metre tine drill last season, which worked on a wider 250 mm row width.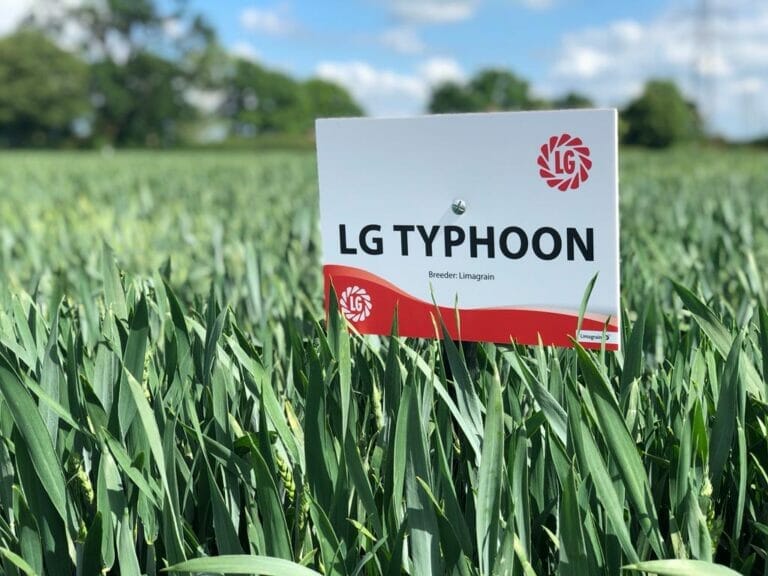 "Unfortunately, we don't yet have the yield data available, as the demo field was combined by a contractor, but the LG Typhoon did seem to really suit that wider row spacing. It's something we may potentially look at in the future, although I'm not sure a 12-metre machine is suited to some of the smaller fields on our farm."
Another attribute of LG Typhoon that makes it a good fit for regenerative systems, and for those looking for flexibility with crop protection inputs, is its strong standing power and disease resistance – reflected by its high untreated yield (92%), Mr Granger says.
Unlike some other feed varieties, it also offers Orange Wheat Blossom Midge (OWBM) resistance, in addition to a six-rating for eyespot and Fusarium.
"It's a high yielding, consistent and resilient variety, that delivers across seasons and rotations."
---
Raby Farms
In-house farming division of Raby Estates (Shropshire and County Durham)
The Durham farm typically grows 500-600 ha of winter wheat, mainly hard Group 4 feed
Cropping also includes winter barley, oilseed rape and beans
Started conversion to direct drilling in 2018
Looking to develop a more regenerative system, reducing reliance on artificial inputs
Started growing LG Typhoon in 2022/23
 
High yielding hard Group 4 feed wheat
Consistent performance across different seasons and regions
Excellent disease resistance, especially Septoria (7.3) and yellow rust (9) – high untreated yield (92%)
OWBM resistance
Growth habit suits early drilling and wider row regenerative systems
Excellent performance as a second wheat
Ian Foot: a pioneer in bringing quality wheats to market
Quality wheat breeding is losing a renowned figure as Ian Foot retires from the world of flour functionality and baking at leading plant breeders Limagrain UK, where he has headed up the quality wheat programme for the last 30 years.
Whilst Ian Foot's retirement marks the end of an era, it also marks the beginning of a new chapter, led by a passionate and skilled successor. As the torch is passed on to Ewa Lagowska, the spirit of innovation and excellence in wheat quality breeding continues to thrive at Limagrain UK.
Ian had an unconventional start to his journey in science. He didn't like his history teacher at school, so he opted to take biology instead!
This led him to pursue biology at higher education, firstly at the Northeast Surrey College of Technology and subsequently at the West of Scotland Agricultural College, where Ian's six-month industrial placement turned into a transformative few years at Throws Farm.
During this time, Ian not only gained valuable practical knowledge but also discovered his true calling. He returned to his studies with newfound zeal and completed a degree in agriculture, specialising in Crop Production. Armed with his newly acquired knowledge, he landed a position at Twyford Seeds, where he managed seed quality and pathology labs.
However, it was all change in the early 1990's, when he found himself working for plant breeders Nickerson, who at that time had recently been acquired by Limagrain. Here he had the privilege of working under the mentorship of the esteemed wheat breeder, Bill Angus. Under Bill's guidance, Ian honed his skills and became deeply involved in quality wheat breeding.
Ian took on the role of quality wheat manager, where he played a crucial role in developing quality programs that bridged the gap between end-user requirements and wheat breeding for the bread and biscuit sectors.
Working closely with wheat breeder Ron Granger, Ian spearheaded the development of the leading milling variety, Crusoe. Collaborating with the baker, Warburtons, Ian and his team had set out to find a wheat variety that could potentially replace the popular variety, Hereward. This variety had to meet Warburtons' stringent quality requirements, including the quality of the flour, its functionality, baking performance and colour. For a variety to make a Group 1, it needs to deliver all this consistently.
The creation of Crusoe was a triumph. It not only met Warburtons' high standards but also proved to be a resounding success in the market.
Today, more than a decade later, Crusoe remains one of the leading quality wheats, a testament to Ian's visionary work and it has just been awarded the NIAB Variety Cup.
Ian Foot remains modest about his achievements and acknowledges the challenges of quality wheat breeding. The complexity of the task, with numerous independent variables to consider, makes it rare for a variety to tick all the boxes and endure in the competitive market.

Nevertheless, Ian's passion for science, dedication to his craft, and commitment to improving agriculture have left a lasting impact on the industry and earned him a well-deserved place among the pioneers of quality wheat breeding.

LG Skyscraper is perfect fit for Fife growers
Consistent yield performance over several seasons, strong agronomics and suitability for later drilling, have seen soft wheat LG Skyscraper become a mainstay of the rotation for two Fife growers.
Tenant farmer and contractor, Zander Hughes, who farms 320 ha (800 acres) of combinable crops for a range of clients, has been growing the variety for several years, and has 81 ha in the ground for this harvest – his whole winter wheat area. 
"We saw LG Skyscraper in trials a few years ago and liked the look of it. It fits our main markets, as we grow predominantly soft wheats that tend to go for distilling at the local Cameronbridge distillery in Leven." 
But, it is LG Skyscraper's strong yield performance across multiple seasons, drilling dates, and rotational positions, that he most values, with yields averaging more than 10 t/ha over multiple seasons, and up to 13.5 t/ha at best. 
"Yield is king for us. We're always looking to achieve the biggest end margin, and that usually coincides with the highest yield. Importantly, our average is based on marketable yield, which is the actual weight sold to the end user, not just what the combine yield monitor says." 
Grain quality has been consistently good too, with protein typically averaging 10.5-11%. While this is not crucial to him from an end market point of view, especially as there are many local animal feed outlets should crops not go into distilling, protein content does provide a useful indicator of nitrogen use efficiency, he says. 
"Specific weight is a priority though, and all wheats have performed very well in recent years." 
Good straw yield is an added benefit, given strong demand from livestock producers in the area, he notes. 
---
Late drilling suitability
Most of Mr Hughes's LG Skyscraper is sown as a first wheat after either potatoes, vegetables (broccoli/ cauliflower), grass or spring barley, so he appreciates the variety's flexibility for medium to later drilling. 
"Around 60% of land is still ploughed, with the remainder established on a min-till system. We typically drill wheat in the third week of September, but have drilled anywhere from 20 August to 20 January. 
"This year we've got LG Skyscraper that didn't go in until the first week of December and still looks exceptional. The crop's all standing, looks strong, and clean. It's what you want a wheat to look like." 
Mr Hughes says LG Skyscraper has a fairly vigorous growth habit once it germinates, so he has no fear of sowing it later, as he might with some other varieties. "In general, it is pretty flexible, although is probably not particularly suited to early drilling."
Fellow Fife grower, Russell Black, near Cupar, also values LG Skyscraper's suitability for later drilling. This year, he is growing around 20 ha of LG Skyscraper, plus 20 ha of LG Spotlight, with all LG Skyscraper sown as a first wheat after potatoes on good quality loam soils.
"We usually don't start drilling wheat after potatoes until the end of October, so tend to work with quite high seed rates to ensure there are sufficient tillers. At the end of October, when conditions are cooler, days are shorter and the ground is wetter, we might be sowing 500 seeds/m2, whereas in September we'd be down at 350-400 seeds/m2." 
Most land is ploughed before drilling, with compound phosphate and potash fertiliser applied with seed and three equal splits of nitrogen, plus sulphur in the spring. 
"We're looking for a target yield of at least 10 t/ha, and that's what we're consistently achieving," Mr Black continues. "This is our fourth year of growing LG Skyscraper and it's been a very consistent variety, in terms of yield and disease." 

---
Easy to manage 
Both farmers believe LG Skyscraper is a fairly straightforward variety to grow, with strong agronomics. 
Despite being slightly taller-strawed, lodging has never been an issue for either grower, and no major disease issues have been seen. 
Mr Hughes typically employs a four-spray programme, T0 to T3, with robust rates of good chemistry, and tight spray intervals. 
LG Skyscraper's resistance to Septoria and yellow rust was put to the test this season, when wet weather in February and March meant the T0 could not be applied to any of Mr Hughes's wheat, and crops faced relatively high disease pressure. 
"Normally, we'd also have applied a growth regulator with the T0, so despite missing one growth regulator and one fungicide, it still looks exceptionally good at the moment. We're getting on really well with it." 
Mr Black describes LG Skyscraper as an excellent "farmer-friendly variety that's not challenging to grow and is easy to manage". "It really suits our farm and what we're trying to achieve." 
He recognises that with the farm being within a Nitrate Vulnerable Zone (NVZ), which limits nitrogen applications, and most LG Skyscraper sown late, yields might be slightly restricted, so he is keen to see how the variety will perform when sown earlier. 
"We are looking to go back into oilseed rape this autumn, after not growing it for a few years due to clubroot problems. This will give us the chance next year to sow LG Skyscraper in September, which I'm really looking forward to. There might be a better variety for the earlier-sowing slot, but if not, then it will be LG Skyscraper. 
"I want to focus on growing first wheats as our land is too light to support a decent second wheat. With the cost of inputs, you can't afford to have an 8 t/ha crop anymore; it doesn't stack up." 
Like Mr Hughes, Mr Black says LG Skyscraper has always been a fairly clean variety, with his crops also getting a four-spray programme, which this year included Revystar XE (fluxapyroxad + Mefentrifluconazole) at T1 and Univoq (Fenpicoxamid + prothioconazole) at T2. Fungicides are generally applied at half-rate to keep costs down, he notes. 
Most of Mr Black's LG Skyscraper also goes into the Cameronbridge distillery, although in the past he has managed to sell some for biscuit-making, gaining a slight premium over the feed price. Quality-wise, it performs consistently well, with specific weight often hitting 80 kg/hl, resulting in a nice bold grain sample, he adds. 
"It's a consistent variety all-round. I like it, so plan to grow it again after potatoes this year, then we'll see how it does after oilseed rape next year." 
Mr Hughes acknowledges he is always looking at other varieties, to see what is best for the farm business, but currently has no plans to change. "At the moment, I think 80-90% of our 2023/24 acreage will be LG Skyscraper again. Until I see a reason to change to something better, or LG Skyscraper lets us down, then we will continue growing it."

Regen Farmer Looks to LG Typhoon for Low-Input Approach
Regenerative practices that are less reliant on artificial inputs require farmers to select varieties with attributes that can help them thrive in such conditions. 
It is something East Yorkshire farmer, Jonathan Hodgson of I M Hodgson & son Ltd, recognises, after converting the 280 ha farm, to a reduced input, strip tillage system in 2019.
There is a diverse rotation on the medium to heavy clay farm, east of Hull, featuring winter wheat, oilseed rape, spring barley, spring oats, winter beans, vining peas, flax, and herbal leys. Cover crops are grown ahead of spring crops, while short-term catch crops are also included wherever possible, namely after vining peas, or oilseed rape, ahead of wheat.
"We're trying to build diversity into the rotation, but our primary focus remains on first wheats; that's what we're always trying to get back to as quickly as we can," says Mr Hodgson.
This season, he is growing a range of varieties, including 20 ha of the hard Group 4, LG Typhoon, alongside LG Astronomer for seed, trial areas of LG Aldaniti and LG Redwald, plus Costello, KWS Extase, Theodore, and a four-way blend trial.
It is the second year of growing LG Typhoon, after a successful 3 ha trial of the variety last year, on land previously in pasture.

Desirable traits for regen
Mr Hodgson's decision to grow LG Typhoon followed a conversation with Limagrain UK's arable technical manager, Ron Granger, who says the variety has certain attributes that suit strip tillage/ direct drilling, regenerative crop establishment systems.
Mr Granger says LG Typhoon had been on the farm in a Limagrain UK demo trial, alongside commercial and up-and-coming varieties, for a couple of seasons, and it was clear the variety offered better suitability for the direct drilling, wider row situation.
"It was a stand out variety," says Mr Granger.
LG Typhoon's growth habit, for example, means plants sit prostrate with slower growth through the winter into spring, which is ideal for those direct drilling earlier in the autumn and do not want a variety that will race off too quickly.
It is high tillering and has the capacity to utilise the space between the wider rows, often found with some direct drilling equipment. Indeed, Mr Hodgson's Mzuri drill has a relatively wide row spacing of around 300 mm centres.
LG Typhoon's strong standing power and disease resistance – reflected by its high untreated yield (92%) – further suits those looking for flexibility with crop protection inputs, Mr Granger says. Unlike some feed varieties, it also offers Orange Wheat Blossom Midge (OWBM) resistance, in addition to a six-rating for eyespot and Fusarium.
"It's a high yielding, consistent and resilient variety, that delivers across seasons and rotations."
For Mr Hodgson, the biggest draw is LG Typhoon's robust disease package, particularly the Septoria rating of 7.3, and yellow rust rating of 9.
"That's what I look for in a variety, probably more so than outright yield. What can it offer in terms of agronomy, and is it a good, stable, variety that will let me look after a crop how I want to, instead of relying on a can to keep it clean?"
---
Cutting inputs
Last year's LG Typhoon lived up to promises, yielding 11 t/ha from limited inputs – about 10% up on the farm's five-year average yield.
The crop received two fungicides – 0.5 L/ha Amistar (azoxystrobin), and 1 L/ha Verydor XE (fluxapyroxad + Mefentrifluconazole) – and a total of 160 kg N/ha.
"We have been trying for a number of years to reduce fungicide inputs, but last year was the first time we've done so on a farm-scale, albeit helped by relatively low disease pressure."
Indeed, one variety on the farm did not receive any fungicide inputs in 2022, and still yielded over 10 t/ha. Other crops did receive fungicides at different stages of the season, reflecting Mr Hodgson's desire to remain flexible and adapt to the conditions.
"We want to be flexible. If the plant looks healthy, I won't put a product on, but if it needs one, we will still use a fungicide. Last year, some crops had a T1, others got a T2, and some first wheats had a T1.5 instead of a T1, as that's when we decided to go on. We won't rule out using fungicides, but it's a measured approach, field-by-field and variety-by-variety."
While looking to reduce reliance on fungicides, Mr Hodgson is keen to support plant health in other ways, notably through more targeted nutrition, utilising in-depth soil testing, and sap analysis, to determine requirements.
He is also changing the way nitrogen is applied, by moving to a "little and often" approach, rather than applying large amounts in one go, which can cause surges of weak growth fuelled by simple sugars, potentially making plants more prone to lodging, and attack by pests and disease.
This approach typically sees 160 kg N/ha applied in four liquid applications of 40 kg N/ha every 15-20 days, from early to mid-March onwards. A carbon source is included with each nitrogen application to improve uptake efficiency. Programmes are completed with a final foliar nitrogen application. "This only provides about 10 kg N/ha, but the nitrogen use efficiency is far greater than applying nitrogen to the soil," notes Mr Hodgson.
"Our aim is to keep plants healthy and growing at a consistent, steady rate, instead of causing surges of growth that need to be managed with PGRs."
Additional fertility comes from the 1,100 tonnes of pig manure produced on the farm each year, applied on a rotational basis.
---
Supporting establishment
Mr Hodgson acknowledges that in the first years of converting to strip tillage, establishment was lower than with conventional tillage, as soils took time to adjust.
Seed rates were therefore increased to compensate. This season's 20 ha block of LG Typhoon, was sown at 400 seeds/m2 on 27 September, after oilseed rape, using home-saved seed, with no dressing (just cleaned in a mobile seed plant and tested for fusarium).
"However, we are now seeing an improvement in soils and drilling conditions, so I think we can start to reduce seed rates slightly. It's been a steep learning curve."
To support crop establishment and soil health, Mr Hodgson also includes two liquid products – fish hydrolysate and humic acid – in a band with seed at planting. "The hydrolysate is full of amino acids, so the idea is to prime the soil by helping the biology."
No starter fertilisers are used, and he points out that no phosphate or potash has been applied for the past four to five years. "Most soils have tonnes of P and K; we just need to be better at getting plants to access it."
Mr Hodgson says this year's LG Typhoon established very well in a relatively kind autumn and winter, growing on well through spring. Disease-wise, it looks "pretty clean", despite having not received any fungicide, or growth regulator, up until the time of writing (beginning of May).
"There is more disease pressure this year than last, so we'll have to remain on the ball and keep checking crops.
"It generally takes two to three years to get to know a variety properly, so it is still early days, but so far, LG Typhoon seems to suit our system."
---
LG Typhoon
High yielding, consistent Group 4 feed wheat
Strong disease resistance, particularly Septoria (7.3) and yellow rust (9) – 92% untreated yield
OWBM resistance, good standing ability
Adaptable drilling dates – suits early drilling, also excellent as a second wheat
High tillering capacity and a slower, prostrate growth habit through winter into spring, and the plant's ability to fill space, suits wider row direct drilling re-gen systems.
LG GatePost Newsletter – June 2023
The June 2023 issue of LG GatePost is now available to download.
This edition features articles about our newest wheat addition to the 2023-24 AHDB Recommended List, LG Redwald, as well as LG Caravelle, our excellent 2-row winter feed barley.

You can read about and view our Live Panel event which was a round table discussion on Varieties, Soils and Policy with industry experts.

We discuss the new Sustainable Farming Incentives and the new 'actions' involved, with an article about why to consider establishing a legume fallow.

There is also information about our upcoming Demo Days and a link to register.

Download the June edition here, and don't forget to claim your BASIS and/or NRoSO points for reading it.

LG Redwald – Taming the Beast!

Limagrain's newest wheat addition to the 2023-24 AHDB Recommended List, LG Redwald, follows in the footsteps of LG Skyscraper as the highest yielding feed wheat with a UK treated yield of 107% – sitting at 107% in the east and an impressive 109% in the west.

LG Redwald has shown this high yield consistency across regions and very testing seasons of weather. Its high untreated yield of 92% reflects its very good disease resistance, especially for Septoria tritici.

How to get the best out of LG Redwald

1. Adjust Seed Rates – LG Redwald is a high tillering, big biomass plant type, so consider a lower seed rate. Limagrain trials over several seasons show that reducing the seed rate by 20% had no effect on overall yield performance, with better lodging resistance.

2. Straw Strength – LG Redwald is a taller variety (94cm) with a big biomass, so a well targeted, robust, split PGR programme is recommended. If the desired early split timings are not achieved, then the inclusion of a late PGR (Cerone or Terpal) is advised.

3. Drilling Date – Do not drill LG Redwald too early, as it does not have the characteristics associated for the early drilling situation. It suits the standard drilling window of mid-October onwards and can be drilled to the end of January. For growers in the north, the drilling date can be pulled back to the beginning of October.

4. Soil Type – LG Redwald benefits from being grown on water retentive soil types; not lighter soil types associated with drought situations. Reduce seed rates and implement a good PGR programme for heavier/ fertile soils.

5. Rotational Position – LG Redwald performs well as a 1st or 2nd wheat. Sitting as the highest yielding wheat (109%) in a 2nd wheat situation, it is a valuable variety to improve gross margins in this challenging situation. It has good tolerance to take-all, but a low rating for eyespot and should be treated accordingly.

6. Fungicide Programme – LG Redwald has good disease resistance for Septoria tritici, and both Rusts – we advise that all crops should be monitored and treated accordingly.

Whilst trials show that a robust on-farm fungicide strategy should be implemented, a T0 spray may not be required, depending on disease pressure. However, a robust T3 fungicide is important for protection against Fusarium, and as it is a later maturing variety, there are benefits from maintaining green leaf canopy to maximise grain fill.

7. Insecticide – LG Redwald has OWBM resistance.

Download the latest edition of LG GatePost here

LG Live Panel – Varieties, Soils & Policy

On 21st March, LG's Ron Granger and Tom Barker were joined by industry experts, Tim Parton (Farm Manager, Staffordshire) and Susan Twining (CLA Advisor) for a live Q&A round table discussion on Varieties, Soils & Policy.

Key Questions raised…
1. Do you still think yield is king? Are breeders, such as Limagrain, breeding varieties specifically for a regen system?
RON GRANGER: "Yield will always be important because farmers have to make an income. But the key issue going forward is around yield security, especially with our changing climate. For example, the capability of a plant to withstand spring droughts is now becoming an increasingly important factor."
"Robust disease resistance also has a key part to play – we are currently seeing the fruition of stacking genes in both Septoria and rust resistances. Resistance to pests is also key."
"Most growers have been adopting some form of regenerative practise for the last 5 years, so we are in a position where growers are able to tell us, as breeders, what they want from varieties to suit a regen system for the future."
"Generally, varieties for regen have been chosen from the present AHDB RL – which is not a problem. However, as breeders, we can look at the germplasm in our programme and identify varieties that will better suit a direct drilling, wide-row situation."
2. What type or size of crop rotation is likely to be needed to sustain regenerative farming? Do you use companion cropping?
TIM PARTON: "I try to extend my rotation as much as possible and split spring to winter cropping by 50:50, to allow for as much cover cropping as possible. It's the cover cropping that is key to the system and this brings in the variety of plants above and roots below the soil."
"Companion cropping is important, particularly in OSR, where I grow white, berseem and crimson clover in the crop, to take it through. Nature doesn't monocrop and plant diversity is key."
3. Should regen ag be certified?
SUSAN TWINING: "At the CLA , we have looked closely at this, and decided that it is not something that we would advocate for at this stage, if ever. Regen farming is about a set of principles which allows for flexibility, depending on the farming situation etc. In certifying this, it would become a tick box exercise – which makes it a completely different concept."

"ELMS offer a good suite of options to reward farmers for good practise. We already have the Soils SFI, the IPM, and Nutrient Management SFI's coming out later this year."

You can watch the full version HERE

LG Denmark Study Tour

In the spring, Limagrain took a group of UK growers to Denmark, to look at regenerative and conservation agricultural practices.

After two full days of visiting farms, agronomy companies and a plant breeder, there was some very interesting and surprising feedback:

GEORGE ATKINSON, LINCOLNSHIRE: "It's been fascinating to see all the different farming systems, and also learn about Danish policies that contradict themselves. I was expecting to come and see the future, but some of the growers are where we were 15 to 20 years ago."

AL BROOKS, HAMPSHIRE: "I came here with a preconceived idea that we were going to learn something from the Danes in terms of their view towards conservation and regenerative agriculture. I was stunned by the amount of red tape they are subjected to. They are constricted in the industry and don't have the voice with government."
TIM PARTON, STAFFORDSHIRE: "I think the government advisors in Denmark need to take a real hard look at what they are trying to achieve, and what their directives are. They are so restrictive; they are missing out on the big benefits they could be getting from regenerative and conservation agriculture. They need to help their farmers more, rather than restrict them."
---
"Discovering that UK farming practice with regards to conservation agriculture or regen is ahead of Denmark, was a surprise to many on the trip, and a real positive take home message for the UK.
It's very noticeable that plant breeding is paramount to the future direction of agriculture, as practices move towards lower input and better disease resistances. Limagrain look forward to sharing what we do with growers from the UK and abroad," says Tom Barker of Limagrain, who hosted the trip.

Download the latest edition of LG GatePost here

Survey reveals variety decisions driven by regional trials information

Arable farmers favour local variety trials over national demonstrations when making crucial decisions about what varieties to grow next season, a survey by plant breeders Limagrain UK reveals.

The online questionnaire shows the overwhelming majority (86%) regard the information they gain from regional variety demonstrations as being more relatable than from national events.

"This is mainly because local events offer the chance to see how new and existing varieties perform in local soils, climate, and disease situations," comments Limagrain UK cereals and pulses product manager, Tom Barker.
"Indeed,43% of farmers responding to the survey have attended a regional event with variety trials in the past 12 months, compared with just 28% that have attended a national event, such as Cereals or Arable Scotland."
"Around one quarter have taken part in an online trials webinar, such as those organised by AHDB, or NIAB TAG."
"Three-quarters of growers are prepared to travel up to an hour or more to attend a regional variety trial, and alongside location and practical considerations, such as date and time, the quality of technical information on offer is a major factor influencing the decision to attend," he says.
This shows growers value the opportunity to gather technical information on individual varieties, and how to grow them, he points out, although of particular interest is the ability to compare treated and untreated plots to see first hand how varietal characteristics stand up to seasonal pressures.
"Other areas of interest include; late versus early drilling comparisons, different methods of establishment, alternative fungicide programmes, and trace element/ micronutrient work."
As might be expected, winter wheat varieties are generally of most interest, followed by winter barley, spring barley, oilseed rape, then a host of other minor crops.
"It is also clear from the survey that, while growers take information from a range of sources when making variety decisions, including independent bodies, breeders, agronomists, and seed merchants, the vast majority (93%) would confidently select a variety based on what they had seen or learned at a variety trial," says Mr Barker.
"We organised the survey to find out what growers want from trials events, and how we can tailor them to their needs in the future."
"It shows that growers base their varietal decision making on what they see or learn at demonstrations and trials, with regional events once again proving their worth as a place growers can go to gain knowledge and understanding of varieties."
---
Summer Demo Days
Recognising the importance of local information when making variety choices, Limagrain UK hosts a series of events around the country every year.

This summer's programme during June and July features five locations, from our milling wheat demonstration on the Essex coast near Maldon, up to the Perth winter wheat trials in central Scotland (see panel for details of all events).

Every demonstration will showcase a range of new and existing varieties, alongside five new Candidate wheat varieties currently going through Recommended List approval. These include two potential biscuit wheats, LG Arkle and LG Grendel, and two hard feed wheats, LG Beowulf – the highest yielding feed wheat Candidate – and LG Redrum.

Limagrain UK's Rothwell site will also feature the new winter barley Candidate LG Capitol, plus the highest yielding two-row feed, LG Caravelle, which joined the RL this year.

Click here to head to our Events page, where all of our Summer Demo Days are listed – 'SIGN UP' to get involved!

Crusoe delivers for Gold award winning grower
After scooping top spot in the 2022 Yield Enhancement Network (YEN) Milling Quality Awards, Crusoe has once again proven its reliability for Norfolk farmer Chris Eglington.
More than one-third (150 ha) of the 400 ha farm near Dereham is down to Group 1 milling wheats, divided evenly between Crusoe in the first wheat slot after peas or oilseed rape, and Skyfall as a second wheat.
"We've been growing Crusoe for at least eight seasons and it is a very reliable variety," Mr Eglington says. "It's not necessarily the highest yielding, but it performs every year."
This performance was clearly demonstrated last harvest, when his YEN entry won Gold in the YEN Milling Quality Awards, with a protein content of 14.4%, specific weight at 80.7 kg/hl, and Hagberg of 355 seconds. This bucked the trend in a season characterised by high specific weights and Hagberg falling numbers, but generally lower protein content.
Mr Eglington acknowledges optimising yield and achieving full milling specification is a fine balancing act, but says Crusoe has generally met the grade every year he has grown it.
His YEN-winning crop was managed no differently to other milling wheats on the farm, which has operated a controlled traffic system across the entire area for the past decade.
For the 2022 YEN crop, grown on a good medium loam field, the preceding Aspire oilseed rape stubble was allowed to green-up for as long as possible, before cultivating with an 8-metre Vaderstad Carrier in early September. Wheat was then drilled within a couple of days, using the farm's 8-metre Vaderstad Rapid, rolled, and a residual herbicide applied.
"We use variable seed rates, based primarily on the soil's clay content. There are 13 different soil types on the farm, from sand to strong clay, and in some cases the subsoil is different to the topsoil.
"Generally, the lighter the land, the lower the seed rate, whereas on the heavier land we'll increase rates, as it is usually harder to create the optimum seedbed. Having said that, conditions were so good last autumn, some of the heavier land established better than the lighter ground."
Little and often nutrition
After many years of growing milling wheats, Mr Eglington recognises the importance of optimising crop nutrition to achieve both yield and the quality required by end users.
Variable rate potash, lime (where required) and nitrogen applications are used across the farm, and he has worked closely with grain buyer Camgrain, and in the past with Sainsbury's, to optimise nitrogen inputs and protein.
"Although there's a lot of pressure to reduce nitrogen use on farms, there's no escaping the fact that if you want to get a good milling wheat crop with high yield and high protein, unfortunately there is no other option than to make sure the crop has enough nitrogen. Being a few kilos under could take away the premium and be a big money loser."
He favours a "little and often" approach, based on his experience of growing milling wheats, and in-season crop monitoring to fine-tune requirements.
Although the preceding crop can affect residual nitrogen levels in the soil, given the uncertainty over how much will be available and taken up by the plant, Mr Eglington prefers to use regular tissue testing as a means of adjusting nitrogen programmes to crop need.
"We haven't really done much soil testing, but do use the Yara N-Tester to test what's in the plant tissue, and then the N-Sensor to apply nitrogen where it's needed, and less where it's not, so you end up with a very even crop."
On average, first wheats typically receive a total of 280 kg N/ha, with second wheats getting an additional 10-15 kg N/ha, due to the lower residual nitrogen after the preceding wheat crop.
Nitrogen is normally applied as four splits of solid granular fertiliser, but will sometimes be supplemented with a small amount of liquid urea towards the end of the season (June) to help build grain protein if required.
Keeping crops clean
A standard four-spray fungicide programme is used across all of Mr Eglington's wheats, from T0 through to T3.
"We don't cut corners in terms of timing. It would be very unusual for us to miss out one of the main fungicide sprays, but we will alter products according to the weather and disease pressure at the time. AHDB benchmarking data shows we generally spend slightly less than average on fungicides, but spray slightly more frequently.
"Again, it's a little and often approach. Fire-fighting disease is a lot more difficult than going out there and preventing it in the first place."
Disease-wise, he says Crusoe is a predictable variety with no significant problems. "We know brown rust can be an issue later in the season, so we treat crops accordingly to manage that risk.
"We have tried other milling varieties in the past, but and have come back to Crusoe because it is a reliable variety," he concludes.
It's a grand slam as Limagrain UK's exciting new wheat, winter barley and oilseed rape varieties, take leading positions across the 2023/24 AHDB Recommended List.
LG Redwald secures poll position as the highest yielding winter wheat.
LG Caravelle is the highest yielding two row winter barley.
Attica joins as the highest yielding oilseed rape variety, with the essential turnip yellows (TuYV) and pod shatter resistance traits.
LG Wagner is the highest yielding addition to the northern OSR Recommended List.
LG Redwald sets a new standard for high yielding wheats, yielding 107% in the UK, (107% in the east and 109% in the west). As a soft wheat, the variety also offers potential for distilling.
These high yields have been consistently proven across National List trials, over seasons, drilling date and soil type, particularly in the second wheat and later drilling situations.
LG Redwald has an excellent disease resistance profile, with very good Septoria resistance as well as orange wheat blossom midge (OWBM) resistance.
"It is an exciting variety that should deliver for growers in 2023/24, if supported with good agronomic practise to ensure it meets its full potential on farm, and comes at a time when growers are looking more than ever to maximise output in order to maintain profit in times of increasing costs."
– says Ron Granger, arable technical manager.
LG Caravelle is the highest yielding two row winter barley to join the 2023/24 Recommended List.
LG Caravelle dispels any misconception that two row barleys are lower yielding than hybrids.
It offers UK yields of 106.3% – which is as good as the top yielding hybrid barley variety – and yields 2% above hybrids in the east.
These high yields are backed up by an excellent disease profile, reflected in LG Caravelle's high untreated yields. LG Caravelle also offers an exceptionally high specific weight for a winter barley, of 71.8 kg/hl.
It is an early maturing variety with stiff straw; both important characteristics for a winter barley.
Attica is a newly recommended fully loaded hybrid with full UK recommendation. It joins the Recommended List as the highest yielding variety to combine stable high yields with the genetic security of TuYV and pod shatter resistance traits.
Attica has a strong autumn growth habit, offering growers a wide drilling window and a very good disease resistance package.
LG Wagner joins the north Recommended List as the highest yielding variety (108.1%). In 2022, it was the highest yielding variety, also offering the security of pod shatter and TuYV resistance. It is a shorter hybrid with stiff stems, combined with solid light leaf spot resistance and good stem health.
"This is a tremendous achievement and is the first time that any breeder has achieved this level of success across all of the cropping sectors in the last decade, if not longer."
– says William Charlton, marketing manager for arable seeds.
"We believe this success is built on our unique UK focussed breeding approach, which means we are able to select for the UK's maritime climate from day one in the breeding programme. This allows us to look for consistently high yielding varieties from the very start of our programme, to suit UK growers and end user requirements."