Winter beans provide crucial protein source for Northumberland farmer
For Northumberland farmer, Wayne Bean of T Bean & Sons, growing his own livestock feed is key to maintaining profitability from his cattle and sheep.
Whole crop beans, maize, kale, forage rape, fodder beet and grain are grown for this purpose at Broad Oak Farm, near Newcastle-upon-Tyne.
"We are totally self sufficient in producing the ingredients for our rations. By growing our own feed, it puts us in control of our own costs as much as possible," explains Wayne.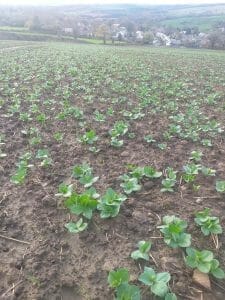 "We know the margins that we have to operate within between profit and loss, and this is particularly important when we buy cattle in, as it helps us to know our margins are fixed before starting."
"It's also important that in our cattle ration we include a protein source, as well as fibre, which whole crop beans provide."
Beans became central to the rotation at Broad Oak Farm back in 2008, initially in response to a price hike in protein and nitrogen costs when 20 acres were drilled on a trial and now there is as much as 80 acres grown in any one season.
"Initially we grew spring beans, but have changed to winter varieties as we have found we can drill them into the heavier ground where maize can't be grown as a break crop and weed control."
"With our land being up to 1000 ft above sea level, conditions in the spring are unpredictable, so it takes the risk away."
"We are now growing the variety Tundra. Whilst it's not the highest yielding variety available, it has one of the highest protein contents which is key for us, and agronomically we like it for its good standing and earliness of maturity," he says.
"We harvest the beans using a direct disc header on the forage harvester. We generally try to avoid using pod stick to keep costs down, as find that this approach helps us to reduce seed losses."

"We aim to get the maize crop as dry as possible for high DM. The grain we grow is crimped and the whole crop beans go on top of the crimped grain in the clamp. We use an additive (Safesill), which is applied by the harvester and we usually wait for about 4-6 weeks before feeding."

"It's not the way that many would feed beans but it works very well for us!"

Saskatchewan Pulse Growers and Limagrain Field Seeds forge a new path in plant breeding for pulses
Saskatchewan Pulse Growers (SPG) and Limagrain Field Seeds are excited to announce a new collaboration for pulse breeding in Saskatchewan, Canada.
This new collaboration has a strong commercial focus and will bring new and additional investment into pea and lentil breeding locally in Saskatchewan, increasing competition, and creating a strong
environment to foster innovation.
Developing new and better performing varieties of peas and lentils is the focus of the breeding collaboration. Farmers' priorities and greatest production challenges are at the forefront of the breeding program, with major areas of focus including resistance to root disease in peas and lentils, increased protein content, and overall improvements in yield performance under varying conditions.
Breeding will take place in Saskatchewan for the benefit of Saskatchewan producers. "We are excited for this new direction in pulse breeding for farmers in Saskatchewan. It is important to continue fostering innovation and competition in pulse breeding and to bring new perspectives to challenging on-farm issues like root rots and herbicide resistance," says Shaun Dyrland, Chair of SPG Board of Directors.
"We believe this new collaboration with Limagrain on pulse breeding will allow for targeting grower priorities and ensuring that growers' direction and voices are at the table helping to drive new varieties."
The new Limagrain Field Seeds breeding, and research program will be based in Saskatoon, where a dedicated pulse breeding team will be created, bringing new expertise in breeding, pathology, molecular genetics, and field trial evaluation to the region.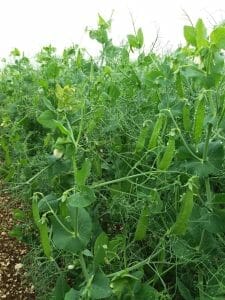 This technology driven program will lead to higher performing varieties being made available to producers more quickly by deploying all available technology to both shorten the breeding cycle and accelerate seed production.
Commitment and Collaboration
"Limagrain is very committed to producing plant-based proteins. Saskatchewan is at the heart of global pulse production, so it makes perfect sense for Limagrain Field Seeds to extend its existing cereal breeding research in Saskatoon, and to now include these two pulse crops reinforcing our commitment to Saskatchewan," remarked Régis Fournier, CEO of Limagrain Field Seeds.
"Collaboration is a core value for Limagrain and partnering with SPG, a fellow farmer-led organization is a crucially important component."
Both SPG and Limagrain are farmer-led with farmer-based boards of Directors. This is an important pillar to this new collaboration, which was developed around shared values to support and foster profitable growth and opportunities for Saskatchewan farmers.
The collaboration has SPG and Limagrain sharing in upfront investments, with future royalties from the sale of new varieties to be shared. SPG will provide input on breeding priorities and ensure that farmers' voices, needs, priorities, and challenges are driving the goals of the program every step of the way.
Benefits for European and UK pulse markets
Will Pillinger, pulse breeder for Limagrain UK believes European and UK markets can expect to see the benefits from this incredibly significant pulses breeding collaboration in the near future through combined technology and genetic diversity.
"The partnership with Saskatchewan Pulse Growers (SPG), has increased our investment in genomic selection and specific trait related genetic markers for peas, beans and lentils."
"This increased global pulse breeding will have an immediate impact on the ability for Limagrain UK to access accelerated improvements in yield, quality and disease resistance and it should not be too long before we see these attributes on UK farms."