Peas perform in dry conditions
Lincolnshire grower Edward Knight of James Knight Farms near Folkingham, Sleaford, Lincolnshire, was very pleased with how well the large blue pea LG Aviator coped with the challenging dry conditions of 2022.
"They stood up nicely to combine and yielded 3.7t/ha," he says.
"This is the first year we have grown LG Aviator peas, which will go to Limagrain UK for seed".
"We are impressed with LG Aviator as a variety – it's clean, vigorous and with the dry conditions we didn't have to spend too much on it. We also bale the straw as the cattle like pea straw, so it's a good value crop for us."
Direct drilling peas
"We have grown pulses on and off for the last fifteen years, depending on where they fit in the rotation. We work the soil in the autumn with a Sumo trio, and then drill in the spring once soils have warmed up enough. For the first time, we direct drilled the peas using a Mzuri in an attempt to conserve as much soil moisture as possible – which worked well."
Importance of disease resistance
At a time when farmers are looking carefully at crop inputs, a variety like LG Aviator should provide some much needed varietal security as it offers the best disease resistance package of any large blue pea variety, including powdery mildew resistance," says Corrie Dekker, Assistant Pulse Breeder for Limagrain UK.
"The variety also exhibits a unique architecture with most of the pods near the top of the plant, which keeps them off the ground and makes for easier combining."
For these reasons, Ms Dekker believes that LG Aviator will feature in generations to come and is why it has been significantly taken up by the industry.
Farm facts
JK Farms
Family Farm & Contracting
Rotation
Peas/Beans
Wheat
Wheat/Spring Barley
Linseed
Wheat
Wheat/Spring Barley
OSR
LG Aviator peas in summary
 
• Good yield performance with consistent flowering and even maturity

• Excellent tolerance to downy mildew and powdery mildew resistant

• Multi podded type with a condensed pod set at the top of the plant

• Suitable for micronizing, feed and human consumption market
Saskatchewan Pulse Growers and Limagrain Field Seeds forge a new path in plant breeding for pulses
Saskatchewan Pulse Growers (SPG) and Limagrain Field Seeds are excited to announce a new collaboration for pulse breeding in Saskatchewan, Canada.
This new collaboration has a strong commercial focus and will bring new and additional investment into pea and lentil breeding locally in Saskatchewan, increasing competition, and creating a strong
environment to foster innovation.
Developing new and better performing varieties of peas and lentils is the focus of the breeding collaboration. Farmers' priorities and greatest production challenges are at the forefront of the breeding program, with major areas of focus including resistance to root disease in peas and lentils, increased protein content, and overall improvements in yield performance under varying conditions.
Breeding will take place in Saskatchewan for the benefit of Saskatchewan producers. "We are excited for this new direction in pulse breeding for farmers in Saskatchewan. It is important to continue fostering innovation and competition in pulse breeding and to bring new perspectives to challenging on-farm issues like root rots and herbicide resistance," says Shaun Dyrland, Chair of SPG Board of Directors.
"We believe this new collaboration with Limagrain on pulse breeding will allow for targeting grower priorities and ensuring that growers' direction and voices are at the table helping to drive new varieties."
The new Limagrain Field Seeds breeding, and research program will be based in Saskatoon, where a dedicated pulse breeding team will be created, bringing new expertise in breeding, pathology, molecular genetics, and field trial evaluation to the region.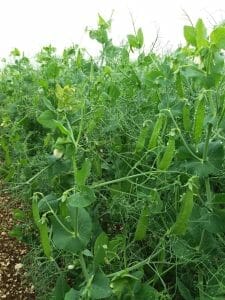 This technology driven program will lead to higher performing varieties being made available to producers more quickly by deploying all available technology to both shorten the breeding cycle and accelerate seed production.
Commitment and Collaboration
"Limagrain is very committed to producing plant-based proteins. Saskatchewan is at the heart of global pulse production, so it makes perfect sense for Limagrain Field Seeds to extend its existing cereal breeding research in Saskatoon, and to now include these two pulse crops reinforcing our commitment to Saskatchewan," remarked Régis Fournier, CEO of Limagrain Field Seeds.
"Collaboration is a core value for Limagrain and partnering with SPG, a fellow farmer-led organization is a crucially important component."
Both SPG and Limagrain are farmer-led with farmer-based boards of Directors. This is an important pillar to this new collaboration, which was developed around shared values to support and foster profitable growth and opportunities for Saskatchewan farmers.
The collaboration has SPG and Limagrain sharing in upfront investments, with future royalties from the sale of new varieties to be shared. SPG will provide input on breeding priorities and ensure that farmers' voices, needs, priorities, and challenges are driving the goals of the program every step of the way.
Benefits for European and UK pulse markets
Will Pillinger, pulse breeder for Limagrain UK believes European and UK markets can expect to see the benefits from this incredibly significant pulses breeding collaboration in the near future through combined technology and genetic diversity.
"The partnership with Saskatchewan Pulse Growers (SPG), has increased our investment in genomic selection and specific trait related genetic markers for peas, beans and lentils."
"This increased global pulse breeding will have an immediate impact on the ability for Limagrain UK to access accelerated improvements in yield, quality and disease resistance and it should not be too long before we see these attributes on UK farms."
Limagrain UK's Pulse Breeding Programme
International cooperation showing positive results for Limagrain UK's Pulse Breeding Programme
---
Limagrain's pulse breeding programme focuses on winter and spring peas and beans. We are a multinational breeding team based in Europe and the UK and target a global pea and bean market.
Pulse breeding is centred in Rilland in the Netherlands, which is on the same line of latitude as London. The programme is spearheaded by pulses breeder Will Pillinger, along with his team consisting of Corrie Dekker (assistant breeder), Jaenet Ter Schure (assistant molecular breeder), Evelien Bakker-Breker (breeding assistant) and Lucie Collins (trials manager).
Major markets targeted include France, Germany and the United Kingdom, but we also breed for other markets within Europe and North America.

The EU Market for peas and beans is worth €10 million and the specific types of peas include green seeded types (€1.8m) for human consumption and yellow peas (€3m) for animal feed.

Field beans (€4.7m) make up roughly 1/3 of our breeding activities across spring and winter types, with our main market being the UK. Key traits for peas and beans are excellent agronomics, yield, quality and protein content.

The other targeted traits we look to develop include; resistance to lodging, Aphanomyces tolerance, tolerance to cold, Downy Mildew and Powdery Mildew and FEBRUARY 2022 GatePost Pea Seed borne Mosaic Virus (PSbMV), maturity and plant architecture.

The core activities for breeding comprise of crossing, early generation selection and seed production. Although we have many breeding targets for peas, there are some specifics for the human consumption market that are key, such as excellent seed colour retention.

When harvested at the right time, peas will retain the blue green appearance. They will quickly lose their colour if not harvested or stored correctly.

In 2021, we entered 15 varieties into National Listing across Europe and the UK. For a small breeding programme, that is a significant number and gives an idea of the potential challenges of being successful in each target market. As a result, the pressure on the seed purification team can be high.

Further developments over the next couple of years will be the ability to measure yield performance of our breeding material during the first year of field assessment. Additionally, the development of techniques to predict the performance of material without testing in specific environments, will help to advance the output of high performance varieties from the pulse breeding programme.

We are excited about the future of pulses and Limagrain have backed the programme with significant investment to further modernise our activities.

Limagrain continue to support vining pea market
---
The demand for frozen peas has slightly increased in the last year, this may be down to more people cooking at home during lockdown, or perhaps a more health conscious nation. Either way, it is good news for the sector.
The Yes Peas! campaign has also greatly helped the cause with fantastic coverage for peas on This Morning with Holly and Phil, and articles in national publications such as the Mail and Hello! Magazine.
Limagrain UK were delighted to help support the social media campaign to promote Great British Pea Week back in 2021. By working in a close partnership with our French sister company, Vilmorin Mikado, Limagrain is breeding new varieties which provide improved disease resistance and higher yields.
Growers and processors are looking for varieties with a better agronomic package going forward, especially due to the loss of Wakil XL seed treatment. Limagrain are launching two new afila type vining pea varieties this year; LG Valiant and LG Infinity. LG Valiant is +8 maturity with excellent yield potential, resistance to powdery mildew and medium-to-small sieve size.
LG Infinity is very different because at +17, it would be one of the latest maturing vining pea varieties, which can offer growers a very attractive option. LG Infinity has moderate field resistance to downy mildew, is resistant to powdery mildew and has excellent yield potential.
Limagrain were pleased to host their annual Vining Pea conference in November 2021, attended by farmer groups, processors and agronomists.
The 2-day event included a presentation by Limagrain on their vining pea portfolio and production, a trip to Market Rasen racecourse and a tour of the seed plant at Holton-le-Clay.
It was fantastic to get all parts of the industry together again after the event was cancelled last year.