Limagrain provides feed for endangered bird species
The campaign to increase numbers of turtle doves in the UK and stave off extinction of this endangered species is benefitting from feed supplies from seed company Limagrain UK.
Donations of small seeds typically turnips and peas and oilseed rape screenings from the company's seed plant in Norfolk, that would otherwise be wasted, are supporting birds on the independent Turtle Dove Breeding Project. This project, co-ordinated by Trevor Lay of Waveney Wildlife, supplies all the captive bred birds to the Turtle Dove Trust for release purposes.
"We use mostly domestic, fostering Java Doves and we also encourage the Turtle Doves to rear at least one or two broods themselves," says Trevor.
The breeding project supplies around 500 turtle doves each year, free of charge. The majority to the Turtle Dove Trust, and to other conservationists or release projects.
Trevor puts the seed material on a range of different ground surfaces such as scrubby grass, gravel, different sand types, ballast and granite chippings, so the young birds get used to foraging for all their seeds. "They are then familiar with searching on different terrain when they are released.
"We aim to release over-wintered birds once the oilseed rape and barley harvest is well underway, so the birds have plentiful feed supplies locally and are not tempted to migrate."
The UK population has declined by almost 90% during the past 40 years. Captive breeding is helping to ensure that this species of dove does not face extinction. But it relies on donations and so we are always delighted when companies and individuals step up to the mark to help the project.

Reasons to Establish a Legume Fallow

January 2023 saw six new Sustainable Farm Incentive (SFI) standards published, to add to the three existing standards introduced in 2022.

These new standards add a further 19 "actions" that aim to encourage sustainable practices and importantly, increase the number of ways farmers in England can help mitigate the reduction in Basic Payment Scheme (BPS) payments.
For arable farmers, it's likely that one of the "actions" with the biggest uptake will be to "Establish and maintain a legume fallow", as its aims and benefits are virtually identical to the already popular "AB15: Two-year sown legume fallow" option in Countryside Stewardship.
The action pays £593/Ha (the same as AB15) and aims to provide food for pollinators and farmland birds whilst helping to support an integrated pest management (IPM) approach. We know from experience with AB15 that sowing a seed mixture such as LG Legume 2 which meets the required specification, can be a great tool to help reduce blackgrass populations, increase fertility, soil organic matter (SOM) and improve soil structure.
Ensuring these benefits are realised to their full does, however, require the same attention to detail as any other crop.
Reducing blackgrass populations is reliant on ensuring that no new seed is shed for the 2-year duration of the mixture. Under both schemes, the mix can be cut for the purpose of controlling blackgrass which in practice will be 2-3 mowings, timed so that the blackgrass has headed and flowered, but not yet produced viable seed. With correct management, the blackgrass seed bank can be expected to reduce by 70-80% per year.
The legumes within the mix will of course fix atmospheric nitrogen, so there's no need to apply any fertiliser and there should be significant residual nitrogen remaining for the following crop. It is, however, worth thinking further ahead as ideally there should be a 5-year gap before any pulses are grown, to avoid potential foot rot or nematode issues.
Mixture choice is also very important. The legume fallow mixture can be selected with or without grass (perennial ryegrass), with the correct choice coming down to individual circumstances. A mix with grass will more successfully smother both blackgrass and broad-leaved weeds, and is likely to contribute more SOM than without. Mowing the mixture to control blackgrass will also ensure that no ryegrass seed is returned to the soil, but those without blackgrass problems may be best with a no grass mixture, to avoid future problems with weed ryegrass.

Whichever mix is chosen, sowing should happen as soon as possible after harvest – ideally in August, to make the most of warm soil temperatures.

Download the latest edition of LG GatePost here

Clovers – reducing fertiliser use
The agricultural press has been full of articles covering the impact of fertiliser price rises over the last year, with headlines being focussed predominantly on methods of reducing Nitrogen application rates.
What is less well reported is that growers have actually been reducing their use of inorganic fertilisers since the early 1980's and this change has contributed to the reduction in estimated greenhouse gas emissions from UK agriculture over the last two decades.
The biggest reductions in N use have been seen on grassland farms where fertiliser use has halved. Whilst potentially good news for the environment, this reduction may be limiting profitability as even at the current fertiliser price levels, the cost of Nitrogen applications to grassland can be justified by increased forage yields.
One way of maintaining grassland yields with lower inputs is to ensure that leys include a good proportion of clover.
But DEFRA reports that only 13% of livestock farmers include clovers in all their leys, with 25% not including any clover at all. This seems like a huge, missed opportunity.
A grass sward with a good white clover content can produce as much forage as one receiving 180kg N/Ha. On a 100Ha grassland farm, this is equivalent of 52 tonnes of ammonium nitrate fertiliser. Red clover has even more impressive figures and can fix as much as 250kg N/Ha.
Making sure a newly reseeded ley includes clover is more important than ever. Where clover isn't present, it can be successfully oversown into an existing sward using pelleted Cloverplus. The pellet enables more accurate sowing and most importantly improves establishment.
The advantages for livestock farmers are clear, but clovers (and grass/clover leys) can also improve soil organic matter, earthworm populations and soil structure in arable rotations whilst also leaving residual N for the following crop.
Arable farmers struggling to find a market for a crop of clover (or grass and clover) may be able to take advantage of ELMS/CSS options such as AB15 Two-year legume fallow. Mixtures such as Legume 2, bring all the benefits of clovers whilst also being eligible for CSS payments.
It is clear that improvements have been made across the industry to reduce reliance on inorganic fertilisers but continued environmental legislation and financial pressure mean the subject is unlikely to fall out of the spotlight any time soon.
Clovers can play an important part on any farm looking to optimise nutrient inputs.
New commercial manager for Limagrain UK
Matt Shand has been appointed to the role of Commercial Manager for Limagrain UK. This new opportunity will see him developing and implementing the UK commercial strategy for the seed business, whilst also leading the UK sales team.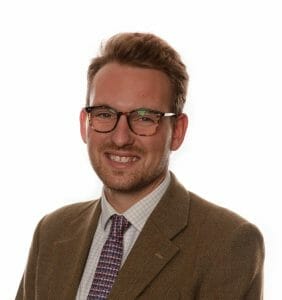 Limagrain is a fast growing, farmer-owned international co-operative group, specialising in both agricultural and horticultural seeds, as well as cereal products. As the fourth largest plant breeder and seeds marketing company in the world, it employs 10,000 people with a turnover of more than 2.5 billion euros annually.

Mr Shand brings a wealth of experience to the position; he began his career in the seed industry at Woodhead Seeds in Yorkshire, before joining Limagrain as sales manager in 2016.

He believes that through its unique UK dedicated plant breeding and research teams, Limagrain is best placed of all the plant breeders to recognise and respond to many current UK crop production challenges.  

"Limagrain is at the forefront of bringing varieties to market that offer increased yields, stronger agronomic characteristics and better disease resistance, whilst end-users also benefit from added value, improved quality, productivity and processability."

"The success of this approach is reflected in the number of varieties sitting at the top of the current AHDB Recommended List. Without a doubt it's an exciting time for the business and I am very much looking forward to being a key part of the team taking this forward," he says.

Cover Crops for Arable Rotations
The introduction of the Sustainable Farming Incentive (SFI) this year, allows farmers who currently receive Basic Payment Scheme payments to apply for SFI, under which payments will be made for soil improvement.
There are 3 levels of payment for the Arable and Horticultural standard:
Introductory level – 70% of land must have a sown green cover or weedy stubble over the winter months (Dec-Feb)
Intermediate level – 70% of land must have a green cover crop during the winter months, of which 20% must be sown with a multi species cover crop
Advanced level – details to be announced in 2023
  The use of green manures, catch and cover crops will help to:
Enhance the natural health and fertility of our soils
Contribute to our efforts to reach Net Zero
  There are many species of catch and cover crops to choose from; fodder radishes such as Romesa, have good biomass and are very deep rooting to help compacted soils. White mustard is another useful cover crop – Severka is fast growing and if sown early, can produce bags of biomass in a short period of time. Multi species seeds mixtures such as Green Reward are also useful, and contain 7 species to comply with the Intermediate level. Lift N Fix contains vetch, along with Humbolt winter rye. This mixture is a highly effective nitrogen lifter and provides great cover, which helps suppress weeds before incorporation into the soil.