Post harvest options – Food for thought
A post-harvest catch crop can be a win-win for sheep producers. Crops such as stubble turnips, forage rape, forage rye and brassica mixtures produce high quality autumn and winter feed cost-effectively.
"Stubble turnips, forage rape and rape/ kale hybrids can be sown up until the end of August," says Limagrain UK's Martin Titley. "They're quick to establish and some varieties can be ready for grazing within 12 weeks of sowing. Hardier varieties can be left for grazing over winter.
Rape/kale hybrids like Interval is an example of a fast-growing catch crop. "In our recent trials, it has produced yields 16% above the control. It's an ideal crop for finishing lambs or for maintenance from late summer onwards," he adds.
Limagrain quotes growing costs of forage rape of £408 per hectare with dry matter yields between 3.5 and four tonnes per hectare.
Stubble turnips cost £305 per hectare to grow with dry matter yields per hectare between 4 and 5.5 tonnes. "This crop makes an ideal feed in the autumn with hardy, mildew resistant varieties ideally suited to grazing through winter."
And he suggests looking at brassica mixtures too.  "Sheep producers can make things easier with these mixtures. Autumn Keep and Meat Maker, for example combine a high protein forage rape with kale, blended with a high-energy stubble turnip to provide a balanced autumn and winter keep with minimal effort. Advantages such as disease resistance, winter hardiness and early establishment have been 'built-in' too.
"And it is worth spending some time looking at the varieties on offer. Our annual trials compare yield and disease resistance of varieties of catch crops and the results can highlight significant differences.
"For example, there is a 20% yield difference between some stubble turnip varieties and this equates to more than one tonne of dry matter per hectare. Samson is one of the top yielding varieties in the trial with a dry matter yield of 5.76 tonnes per hectare and, as a bonus, this variety is preferentially grazed by sheep in grazing trials."
A catch crop will also mop up any available nutrients, returning them to the soil via the manure of grazing animals. This helps to improve soil organic matter and structure.
"Catch crops bring many advantages to the mixed farm in providing a valuable feed and added benefits to the soil. They make an excellent break crop and a perfect entry back to a grass reseed in the spring."
More information
Learn more about these catch crop options here or contact your usual seed merchant for availability
Download the LG Essential Guide to Forage Crops below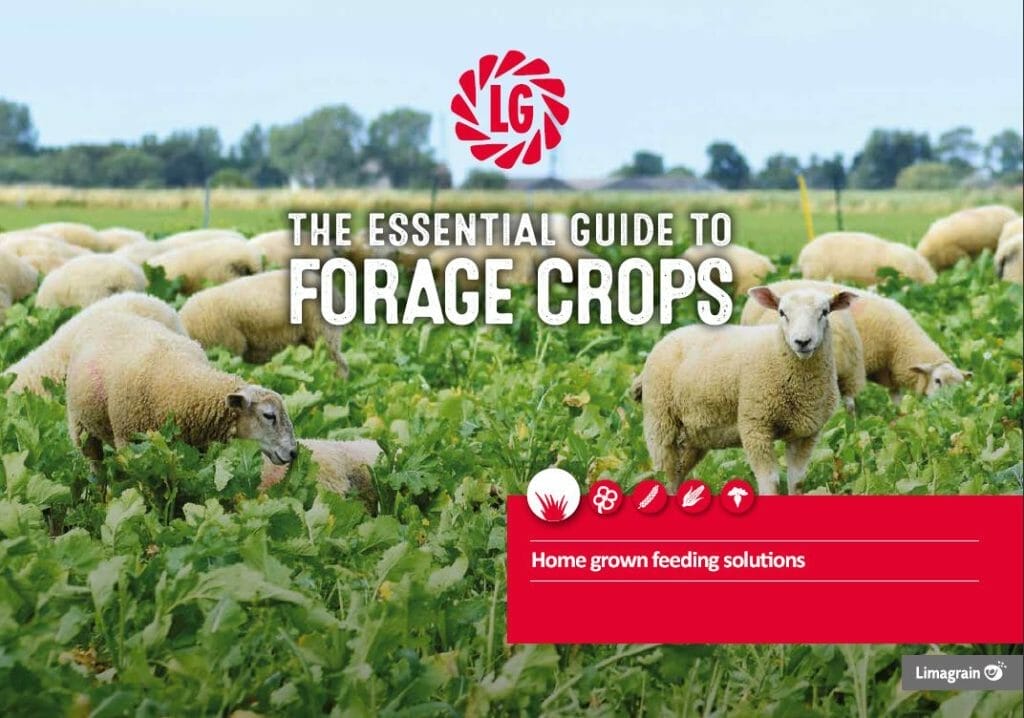 Early sowing pays off for stubble turnips

We've taken a look back on this 2017 trial of stubble turnips to show the advantages of sowing early – ideal for after cereals!

In a Limagrain field trial, on its innovation site in Lincolnshire, three crops of Samson stubble turnips were sown at two-week intervals from July 28, 2017. Fertiliser was applied at 35kg of nitrogen per

hectare, in the form of 20:10:10, into the seedbed. Crops were harvested by hand in mid-December and weighed. "The results showed that the highest dry matter yields came from those crops sown earliest," says Limagrain forage crop director Martin Titley. "Dry matter loss was 33% in crops sown two weeks later and 59% in crops sown four weeks later." Table 1 shows the dry matter yield from the three crops.

TABLE 1         Dry matter yield of Samson stubble turnips t/ha
| | | | |
| --- | --- | --- | --- |
| Sowing date | 28/7/17 | 15/8/17 | 31/8/17 |
| Samson | 6.6 | 4.4 (-33%) | 2.7 (-59%) |
The trial also highlighted the change in the ratio between leaf and bulb yield over time with those earlier sown crops producing higher yield of bulb to leaf compared with later sown crops. Table 2 shows the ratios of dry matter yield of bulb to leaf across the three sowing dates.  
TABLE 2       Percentage Dry matter yield leaf:bulb
| | | | |
| --- | --- | --- | --- |
| Sowing date | 28/7/17 | 15/8/17 | 31/8.17 |
| Leaf % | 24% | 41% | 62% |
| Bulb % | 76% | 59% | 38% |
Limagrain has used the AHDB relative feed value calculator for stubble turnips of £123.95 per tonne of dry matter, based on feed barley at £120 a tonne and rape meal at £195 a tonne, to illustrate the difference in feed value between the three sowing dates. "The earliest sown crop of Samson has a feed value of £483.40 higher than the crop sown in late August," adds Mr Titley. "The growing costs of all three crops is the same." "While this trial shows the yield advantages of earlier sowing, growers should remember that all crops of stubble turnips provide a valuable feedstuff, with later sown crops providing a useful amount of leafy forage." Stubble turnips are an ideal crop after cereals with only light cultivation required ahead of drilling. They are a fast-growing catch crop, easy to eat and highly palatable that can be grazed by sheep or cattle within 12 to 14 weeks from sowing. "If the timing of the cereal harvest allows a crop of stubble turnips to be sown earlier then there are likely to be yield advantages, but even at the end of August or early September, this crop will still provide a cost-effective forage crop."  
Stubble turnips – yield and feed value
Average DM yield                3-6t/ha
Average fresh yields          38-45t/ha
Dry matter                            8-9%
Crude protein                      17-18%
Digestibility                         68-70%
ME                                       11MJ/kg DM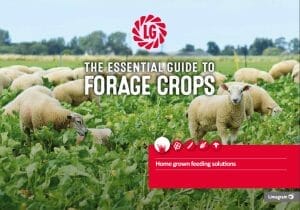 LG Essential Guide to Forage Crops

Plant breeder trials put varieties through their paces
Breeders Limagrain UK have opened the doors to its main Lincolnshire Wolds trials site, to give growers a unique insight into the performance of new and existing cereal varieties in another challenging dry season.
---
The event, near Market Rasen, showcased numerous wheat and barley varieties coming through the firm's breeding programme, alongside others already on the Recommended List, from Limagrain and rival breeders. "The site is at a reasonably high altitude (around 300 ft above sea level), which means varieties can perform very differently here compared with other locations, so it's important we use these trials to understand the variety differences better," Limagrain's Ron Granger said.
A relatively cold, dry spring, followed by a hot, dry start to summer, had caused reduced tillering and earlier senesce in many of the mid-October sown plots, but had highlighted some clear differences in the resilience of varieties to droughty conditions. High yellow rust pressure earlier in the season had also reinforced the importance of strong genetics in keeping crops clean and maximising photosynthetic potential.
With continental conditions likely to become more common in the UK, Mr Granger said it was important the industry learned to adapt to the climate through variety choice and agronomy. Indeed, he said Limagrain was exploring the potential benefits from several continental varieties, such as a German and French wheat that looked to have merit, although more would be known about their suitability for the UK after this harvest, once yield and quality assessments had been done.
Taller varieties
Breeding programmes for wheat are mainly located around the Cambridge region, and previous dry seasons had clearly highlighted the benefits of taller varieties being more robust in these testing conditions, Mr Granger continued. LG Skyscraper, for example, had proved popular on the lighter land of the Wolds and had been the highest yielding variety for three years, with good specific weight and potential to go into a range of markets. RL Candidate, LG Redwald, also looked very promising, with potential to raise the yield bar considerably, offering huge biomass and very high yield potential at 106%, plus decent disease scores for Septoria and Brown Rust, and Orange Wheat Blossom Midge (OWBM) resistance.
The variety's large, strong tillering capacity meant it covered the ground very well, and trials have shown that the variety could be sown at lower seed rates with minimal difference to yield. This made it a good potential option for wider row, direct drilling systems, although it should not be drilled too early. Nitrogen and growth regulator applications also had to be managed carefully, given the variety's large biomass, Mr Granger noted.
Another moderately tall, strong tillering variety suited to earlier direct drilling and regenerative agriculture systems was LG Typhoon. "It's one of the latest varieties to move in the spring, so does suit the earlier drilling period. It's not the highest yielding variety, but it has already proved to be a very safe and secure package, yielding 102% over the last three years across every region, and has shown promise as both a second wheat and in the earlier drilling situation."
Crucially, for growers in high-risk areas for yellow rust and Septoria, such as Lincolnshire, LG Typhoon has a great disease resistance profile with stacked resistance for both diseases, offering one of the strongest genetic resistances available. It also has good standing power and OWBM resistance.
A variety that is National Listed and did not go forward as a Candidate this season is also showing potential for regen systems, LG Aldaniti. "It's one of the cleanest varieties for rusts and Septoria and has great tillering capacity, short, stiff straw, good specific weight and early maturity. "We need more varieties like LG Typhoon and LG Aldaniti to fit regen systems, as I don't think all the current varieties on the RL will suit the situation. As breeders, we have so much diverse genetics and I think we can do better."
Investigating nitrogen
Given the increasing interest in regenerative agriculture and focus on improving nitrogen use efficiency (NUE), the Rothwell site had this season hosted nitrogen response trials.
In wheat, the response to increasing nitrogen rates was compared in four LG varieties – LG Aldaniti, LG Skyscraper, LG Typhoon and LG Redwald – to see how they fared at rates from 150 kg N/ha upwards, increasing in 30 kg N/ha increments. "Many crops in general were being over-fertilised by up to 20%, so growers need to better adapt strategies to the season and plant requirements," Mr Granger said.
The dry spring, for example, meant granular nitrogen had not been applied to plots until there was adequate soil moisture to facilitate root uptake. When in a drought situation, plant requirements were supplemented using foliar nutrients and trace elements instead.
Elsewhere, Limagrain was screening potential new 'N-Flex' winter oilseed rape varieties to find those with enhanced NUE, marketing manager, Will Charlton added. Varieties were deliberately being grown in lower nitrogen situations to see which performed best and conserved a higher proportion of their optimal yield over multiple years, before being deemed to have the N-Flex trait. "N-Flex is a characteristic identified in some of our elite hybrid WOSR lines that are able to convert available nitrogen into higher and more secure yields, giving enhanced yield security. So, when nitrogen applications are sub-optimal, yield penalties in N-Flex varieties are less than they are in other varieties." Ambassador was the first N-Flex variety to be launched and has since been joined by others including LG Aviron and LG Antigua, with further lines coming in the future, he noted.
Valuing regional trials
Local farmer, Colin Chappell, attended the Rothwell open day and valued the opportunity to assess how new varieties and existing varieties performed in local growing conditions, rather than having to rely on national trials information.
"I'm particularly interested to learn more about LG Redwald, as it's one I'd like to try growing next season. We have maize in the rotation, so I'm considering sowing it after that, as a big biomass variety to mop up nutrients and stabilise soil structure after the maize has been harvested."
Mr Chappell, who manages 645 ha near Brigg, is currently growing a range of milling, biscuit and feed wheats in a varied rotation. This season's winter wheat varieties include 50 ha of the Group 1 milling wheat Crusoe, grown on contract for Warburtons.
"We've always grown a lot of LG varieties, and started growing Crusoe when it was launched, as it had decent yields and good quality. It has proven to be an easy variety to look after, and although brown rust risk does have to be managed, that's fairly easy to deal with at ear wash timing."
Nitrogen Use Efficiency has been a big focus for Mr Chappell. Last year, he used a range of in-season testing options to achieve an average NUE of 84% from the 220 kg N/ha applied to a crop of Crusoe that yielded 11.5 t/ha, and easily met his current 12.5% grain N requirement.

"The economics of chasing full 13% milling specification by applying 300 kg N/ha have to be questioned at today's prices, and when you consider that half of the carbon footprint for one tonne of wheat is due to artificial fertiliser." Improving NUE would remain a priority, and he therefore welcomed the work that breeders, such as Limagrain was doing within this area to improve farm practices.

Variety choice is central to risk management
Using variety choice to manage on-farm risk should be a top priority for growers when finalising variety choices for the coming season, according to breeders Limagrain UK.
Speaking at a recent variety demonstration at the Limagrain Woolpit site in Suffolk, arable technical specialist, Liam Wilkinson, urged growers to take a whole-farm approach to risk management when deciding what to grow. There were many ways that varieties could be used to manage risk, from selecting those with different maturities to mitigate the impact of unsettled weather around harvest, to choosing varieties with strong disease resistance scores based on a diverse genetic background, he said. "Don't look at any one aspect in isolation; mitigating risk has got to be based on whole-farm factors." Yield results from local trials (treated and untreated), grain quality suitability for different end markets, fungicide response, growth habit in autumn and spring, and other agronomic traits, were all important factors to consider, Jonathan Payne of Nickerson Seeds added. "The type of drilling system you use, whether that's wide or narrow rows, may be something else that affects the most suitable variety to choose." A variety like RL Candidate LG Redwald, for example, offers huge biomass and tillering capacity, making it well suited to wide row direct drilling or min-till systems, using lower seed rates. The variety offers a yield potential of 106%, but can also be used for whole-crop forage, given the large biomass potential. This could allow ground to be cleared early, or be part of a grass-weed control strategy. "The key is to identify your hopes and expectations for 12 months' time and plan variety choices depending on what you want to achieve." After another dry spring and early summer, drought risk was once again top of many growers' minds, Mr Wilkinson noted. "For drought-prone sites, generally you need a taller variety which is quick to get going in the spring, combined with early maturity and good grain quality, such as LG Skyscraper." "On the whole, higher-yielding varieties are generally getting taller, and we find these have better resilience in droughty situations, although growers need to manage them properly through the season."

Safe option
For those growing milling wheats, Mr Wilkinson said Crusoe remained the safe option from a quality perspective, given its stable Hagberg, high inherent protein content and proven farm and end user performance, during a more than a decade on the Recommended List. He acknowledged growers should be mindful of brown rust risk, but said this was generally easier to control than yellow rust, which was a much greater threat in several other varieties. In contrast, Crusoe's yellow rust resistance score remains at 9. This strong yellow rust resistance had been passed on through Limagrain's breeding programme to other varieties, such as LG Detroit, which was the only Group 2 wheat to offer Orange Wheat Blossom Midge (OWBM) resistance, alongside stiff straw and good grain quality, with similar performance to Crusoe in some mills. "Midge resistance is a fantastic trait that we know is effective, with no yield deficit. If you're going to push a Group 2 type variety for milling potential, then this is the one I'd go for." Among the increasingly crowded Group 3 sector, Mr Wilkinson picked out LG Astronomer as being an "all-round safe package", that combined excellent grain quality with robust disease resistance and other good agronomics that would help manage risk on farm. Importantly, its three-way parentage of (Cougar x Leeds) x Britannia, has proven to be far more robust than other varieties against the Cougar Septoria strains seen last season, resulting in it remaining one of the best Group 3's for Septoria resistance on the RL.
"LG Astronomer likes being drilled a bit earlier and generally needs decent bodied land to get the best out of the variety. The biscuit premium might not be as attractive as that from Group 2's, but with LG Astronomer, it's one that can be achieved with no extra agronomic input required." The Group 4 variety LG Typhoon was another new variety that ticked a lot of boxes for managing risk, Mr Wilkinson said. It combines high yield potential with excellent disease resistance, stiff straw and OWBM resistance. "Typhoon's Septoria resistance comes from Irish parentage and is one of the highest scores available on the RL. It also has the stacked genes for yellow rust resistance, using the most robust genetics we've got. There's been a lot of demand for it already, particularly in the West." LG Typhoon's strong genetics could buy useful flexibility around key spray timings, and potentially allow for some savings depending on disease pressure, he said. "The variety suits earlier drilling situations due to its spring growth habit, and is rated +2 for maturity, so it's well worth investing in the T3."
---
Local trials inform decisions
Suffolk grower Peter Mahony was one of several farmers who valued the benefits of being able to see how varieties performed in local conditions, rather than having to rely on National Trials information. Mr Mahony farms around 220 ha (560 acres) of owned and contracted land near Rattlesden, south of Woolpit, growing 35 ha of LG Skyscraper, alongside Gleam, LG Mountain winter barley and sugar beet, on mainly clay loam soils. This autumn will be his first year direct drilling, so he was particularly interested to see which varieties might suit that system. "Big National Trials have less relevance to what's going on at our farm, whereas seeing how a range of varieties fare in our soil type and growing conditions is far more useful. Plus we also value being able to talk to the breeders and get their opinions on things like drilling date or optimum seed rate. "We've been growing Limagrain varieties for many years," he added. "Knowing they've been bred just down the road from us gives us confidence that they should be well suited to our growing conditions on the farm."

LG Arable Trial Tours – Register now!

Limagrain UK would like to invite growers and agronomists to our Arable Variety Demo Days, led by our arable technical experts, Ron Granger and Liam Wilkinson.

Each of the 4 events will include guided tours of the variety plots with our technical experts. There will be special guests in attendance, free catering and BASIS and NRoSO points will be available.

Details of the individual events is as follows;

29th June, Woolpit Suffolk

Location: Hardings Lane, Norton, IP31 3NW. What3Words = grand.ghosts.locked

Time: 11am – 3pm

Details: Winter wheat, winter barley and OSR variety demo, plus late drilled wheat seed rate trial and Colour Splash amenity flower plots, ideal for pollinators

Guests: Tuckwells, Enivrofield and BASF in attendance

Catering: Rolfes of Walsham

30th June, Newbury, Berkshire

Location: Newbury, Berkshire, RG20 9QE. What3Words = regard.candidate.mainland

Time: 2pm – 6pm

Details: Winter wheat variety screen

Guests: Haynes Agricultural Amazone drill demo

Catering: Rusty and Roses

5th July, Rothwell, Lincolnshire

Location: Rothwell, Market Rasen, Lincolnshire, LN7 6AZ. What3Words = manicured.prepared.forced

Time: 2pm – 6pm

Details: Winter wheat, winter barley, spring barley and winter oilseed rape variety screen

Guests: Louth Tractors

Catering: Hot Trotters

27th July, Perth, Perthshire, Scotland

Location: Perth, Perthshire, PH2 7PH. Follow the LG signs

Time: 2pm – 6pm

Details: Winter wheat variety screen

Guests: HRN Tractors

Catering: Will be provided
Cambs grower recognises LG Skyscraper's yield and resilience
The yield potential, grain quality and agronomic characteristics of LG Skyscraper have seen it hold its place on one Cambridgeshire farm, as others have fallen by the wayside.
---
Harry Sperling, who manages a 400 ha (1,000-acre) family farm near Huntingdon with his father, Henry, started growing LG Skyscraper in 2019/20, and has been pleased with its performance so far despite a challenging couple of seasons.

"Previously, we were growing RGT Saki and KWS Firefly, which performed well enough in terms of yield, but we found we were spending too much money on them. Last year we lost a few varieties following the emergence of the Cougar [Septoria] race, so in some ways we're starting again to find varieties that perform on our farm."

This year he is growing 35 ha of LG Skyscraper, alongside a range of other winter wheats, mostly hard Group 4's, and a Group 2. "Our main reason for growing LG Skyscraper is yield," Mr Sperling says. "But we also like its ability as a second wheat that we can drill late and combine early, to establish oilseed rape straight after.

"We grew it as a second wheat for the first two years, but are trying it as a first wheat this year to see where it fits best on our farm."

LG Skyscraper's grain quality characteristics are a further attraction, as most is sold into local soft grade milling markets, which attract a worthwhile premium, he notes. Last year's crop yielded a respectable 10.42 t/ha in the second wheat slot, with 77-79 kg/hl specific weight and 11.8% protein.

That was despite tricky drilling conditions in the previous autumn and a prolonged cold, dry spell in late spring 2021. "We've found LG Skyscraper does cope well in a dry spring. It tillers and roots strongly and takes up nitrogen well, which helps it stay greener for longer. It's a cracking variety and I'm pretty sure we could get 11 t/ha-plus in a good year."

Mr Sperling recognises the importance of ensuring there is a high enough plant population to maximise yield, and says seed rates are increased from 400 to nearer 425 seeds/m2 for second wheats sown towards the third week in October.

Second wheats typically receive around 250 kg N/ha in four splits, including urea in mid-February, ammonium sulphate and urea in early and late March respectively, then a final ammonium nitrate application in mid-April (timings depending on the season).

Competitive ability

Mr Sperling says LG Skyscraper's tillering capacity and height also give it a useful competitiveness against black-grass, which can be an issue on the reasonably heavy soils. Land going into winter wheat is typically cultivated with a Väderstad TopDown, followed by a Rexius Heavy Press, then is left for black-grass to germinate before being sprayed off with glyphosate ahead of drilling in the second or third week of October.

"We're definitely improving black-grass control, although there is some that we have to live with, so the tillering and height of LG Skyscraper certainly help. If black-grass gets too much though, we will put fields into spring cropping."

This season, he is growing 10 ha of LG Diablo spring barley on the worst black-grass field. "It's a high yielding, multipurpose variety that delivers low grain nitrogen and high alcohol content, so is good for both farmers and buyers."

Mr Sperling last grew LG Diablo in 2020, when heavy rain disrupted autumn drilling schedules. "It was a tricky year as spring 2020 turned very dry, but Diablo coped pretty well and it all made malting spec at 1.6% grain nitrogen.

"The LG Diablo was last to harvest in that year, but it worked well in terms of spreading our workload," he adds. "Winter crops are still clearly the best for gross margin, but we will keep spring barley in the rotation where required."

LG Skyscraper is up for the challenge in North Yorkshire
When Yorkshire farmer Tony Bell started growing LG Skyscraper two years ago, he did so hoping the variety would be up to the challenge of his lighter soils, not ideally suited to high-yielding wheat crops.
So far, the variety has lived up to expectations though, performing well in a challenging 2020/21 growing season that featured a wet autumn, followed by cool, very dry conditions during April, then rain in May and June. His 20 ha (49 acres) of LG Skyscraper kept growing well throughout the changing conditions last season, and went on to average more than 10 t/ha, which was around 1 t/ha above the typical average wheat yield for the 265 ha farm near Thirsk. The crop also produced a nice bold grain sample, with specific weight coming in at 73-74 kg/hl. "Our soil type is relatively light, so it's not the best wheat-growing land, therefore we wanted a variety that would perform well, both in more adverse seasons when it turns very dry, and in wetter years," Mr Bell says. "From what we've seen so far, LG Skyscraper seems to fit the bill." He acknowledges the spring growth of all varieties was impacted in some way by last April's drought, with some very short crops through spring, however LG Skyscraper's longer straw and strong agronomics proved beneficial. "Because it was so dry, we didn't need to apply any growth regulators until May, which worked well in the end as crops grew away quickly once rain came during that month. LG Skyscraper did appear to be more resilient and performed better than our other varieties in those conditions," he says.   Increasing area This year, Mr Bell, who manages the farm in partnership with his wife, has therefore increased his area of LG Skyscraper to 34 ha (85 acres), all sown as a first wheat after a range of different break crops that include oilseed rape, potatoes and forage maize. Land typically receives one pass with a Sumo cultivator, before drilling with a Väderstad Rapid. "We generally favour October drilling for our LG Skyscraper, however, drilling dates for the harvest 2022 crop ranged from the 9th to the 23rd of the month, depending on the preceding crop. This year we're also growing KWS Dawsum and Gleam, which are both September-drilled," he notes.

Like all wheats on the farm, this year's crop of LG Skyscraper established well and came through a relatively mild autumn and winter with good yield potential, Mr Bell reports. There was some anxiety over the potential impact of another dry April, however generally he remains happy with how crops are currently looking. "Despite the mild winter, there haven't been any particular disease issues," he adds. Mr Bell recognises LG Skyscraper offers a reasonable disease resistance profile, reflected by its solid untreated yield on the AHDB Recommended List (82% of Control). The variety is rated 7 for mildew and yellow rust, 4.9 for Septoria (three-year rating), and like other leading LG wheats, carries Orange Wheat Blossom Midge (OWBM) resistance. Last season, the dry, cool conditions in April meant he was able to make a slight saving on fungicides by not applying a T0 spray to his LG Skyscraper, however this year he did apply one. "Given the rise in commodity prices, we wanted to do everything possible to maximise green leaf area and yield-building capacity throughout the season, and the T0 represents good value for money, relative to the high price of wheat." He has tried to make savings in other areas though, using the Yara N-Tester to help reduce the amount of fertiliser applied by 30-40 kg N/ha compared with last year, to nearer 170-180 kg N/ha. "Looking at nitrogen response charts, it may end up reducing yield slightly, but if we can get within 300 kg/ha of last year's yield, I'll be delighted."

Considering Conventional Oilseeds?

Selected conventional varieties also exhibit the good early vigour that will enable them to grow past the potential damage that can be caused by cabbage stem flea beetle, says Liam Wilkinson technical oilseed rape specialist, for plant breeders Limagrain UK. Conventional rape varieties account for 35 – 40% of all crops, a smaller proportion of the national crop than for some time, he adds. "They have ceded the majority of the market to hybrids, which traditionally offer greater vigour and the opportunity to 'stack' beneficial traits such as resistance to pod shatter and disease." Amongst Limagrain's conventional varieties both Acacia and Amarone show similar characteristics, he notes. "Growers are looking for vigorous growth in the autumn and to establish a canopy as quickly as possible so the crop gets away from the adult beetles." "Both Acacia and Amarone have good initial vigour, they quickly establish the three or four true leaves they need to reduce the risk from grazing damage by the adult CSFB." "With new conventionals Annika and Amarone also offering TuYV resistance, they can to help form the basis of an IPM strategy or those looking to reduce reliance on autumn insecticides." "They go on in the spring to reach eight true leaves and around 8cm collar with a 15cm tap root quickly, which helps protect them against larval damage".

"One key to helping all oilseeds avoid damage is to drill according to moisture levels rather than the calendar," he adds. "Drill for the soil conditions – you must have enough moisture to get the plants off to a good start, so they can get going and keep going." "That's not the be all and end all of it, because the beetle and their larvae still pose a risk. But hitting these growth thresholds gives the crop the best chance of withstanding any damage." Two Farmers who continue to grow conventional varieties are Tim Parton, a well-known advocate for regenerative agriculture, based in South Staffordshire, and Andy Roberts, who farms on the Staffordshire/Shropshire border. Tim grows around 40 hectares of a three variety blend at the 300ha Brewood Park Farm, South Staffordshire. That blend includes Acacia and Annika and he saves his own seed so the mixture he sows is progressively better adapted to his farm: "By combining several varieties I get stronger disease resistance which helps keep costs down. At the same time, those three varieties are adapting to my farm's soil and conditions." "When they are senescing they send endophytes into the seeds that are ready to be sown into the environment they have been grown in, which improves plant genes for the future." They fit into a six year rotation alongside milling wheat, spring barley, spring beans, lupins and grass leys used for making haylage. cover crops are put in ahead of all spring crops and grazed by sheep – or 'mobile composting units' as Tim calls them. He aims to direct drill the crop with a companion crop in the first week of September, and uses a high seed rate to achieve 100 plants/m2. The companion crop is normally a mixture of crimson, white and burseem clover. He also adds molybdenum, sulphur, boron and manganese in the seedbed: "The young plants will synthesise sugars and will not be attracting flea beetles". Total N supplied is around 170kgs/ha, much of that being supplied as foliar applications in response to the results of frequent tissue and sap testing. Average yields have been around 5t/ha over the years, although cold springs have reduced that in recent years. On the Staffordshire/Shropshire border Andy Roberts grows oilseeds in a rotation formed around winter wheat and spring barley, with breaks of either oilseed or potatoes. The 320ha Lower Barns Farm, Pattingham, also supports a small suckler herd. Across much of the farm oilseeds are grown one year in six; in areas not suitable for potatoes it may be as frequent as one year in four. This year he sowed over a wider window than normal – from mid-August to the first week of September – working the land with a Sumo Trio and broadcasting the seed off the back so the following roller pressed the seed to achieve good soil-to-seed contact. In some fields he spreads chicken muck before sowing, working it in with a Vaderstad Carrier, to add both organic matter and nutrients to their mainly sandy loam soils. Seed rates depend on sowing date: "We are sowing earlier these days to avoid flea beetle damage. We sow 60 – 70 seeds/sq m in mid-August and raise that to 80 seeds/sq m in September. "We grow Acacia because we have always used conventionals as they tend to be a bit shorter stemmed, and have good standing ability which makes them easier to harvest. We don't save seed at the moment, but it is useful to have that option should we want it." Yields on the farm tend to average around 4t/ha, although last autumn one September-sown field topped 5t/ha. Rising fertilizer prices are forcing a change in his regime this year: "We normally apply between 180- 200kg/ha of nitrogen, but will be dropping that to 150kgs/ha. "On fields that have received a dose of chicken muck we don't use anything in the autumn; where muck has not been applied we use 30kgs/ha at planting. "We believe the crop needs some help to get it way from the flea beetle threat." ANNIKA is well suited to early drilling and has excellent disease resistance, including genetic resistance to Turnip Yellows Virus. It produces a short plant with a stiff stem (scoring 9 for both lodging resistance and stem stiffness) and offers high yield potential (45.3% oil). ACACIA is the highest-yielding conventional variety on the AHDB 2021/22 recommended list. It has highly vigorous, robust plants with good stem strength and disease resistance. It rates 8 for lodging resistance; 9 for stem stiffness (45.7% oil).

Limagrain's New Contenders Show Great Promise
The 2022 AHDB Barley Candidate List shows two new exciting sparring partners, LG Caravelle and LG Campus.
---
Winter Barley
LG Caravelle is an extremely high yielding variety (107% of control – UK), which is comparable to leading hybrids. Boasting an untreated yield of 90% puts it above all Candidate Control varieties. Its sucker punch at 71.0 kg/hl, will make competitors take notice, along with its excellent disease resistance combination of 7 for Mildew, 7 for Brown Rust and 7 for Rhynchosporium. With early maturity (0) and stiff straw, it looks like the variety that can go the distance.
Ron Granger, LG's arable technical manager says "LG Caravelle shows the excellent work breeders are doing, by getting 2-row varieties to compete with hybrids. I am very excited by the prospect of LG Caravelle." LG Campus also boasts a high yield (104% of Control – UK) above that of Control varieties. Slightly taller than stablemate LG Caravelle, it shows a good pedigree in the ring. With good consistency of performance across regions and a disease package of 7 for Brown Rust and 7 for Rhynchosporium, it looks to have strong credentials. Growers should watch closely the performance of both LG Caravelle and LG Campus this summer; both look to be exciting contenders in the winter barley market for the future.

Cover Crops for Arable Rotations
The introduction of the Sustainable Farming Incentive (SFI) this year, allows farmers who currently receive Basic Payment Scheme payments to apply for SFI, under which payments will be made for soil improvement.
There are 3 levels of payment for the Arable and Horticultural standard:
Introductory level – 70% of land must have a sown green cover or weedy stubble over the winter months (Dec-Feb)
Intermediate level – 70% of land must have a green cover crop during the winter months, of which 20% must be sown with a multi species cover crop
Advanced level – details to be announced in 2023
  The use of green manures, catch and cover crops will help to:
Enhance the natural health and fertility of our soils
Contribute to our efforts to reach Net Zero
  There are many species of catch and cover crops to choose from; fodder radishes such as Romesa, have good biomass and are very deep rooting to help compacted soils. White mustard is another useful cover crop – Severka is fast growing and if sown early, can produce bags of biomass in a short period of time. Multi species seeds mixtures such as Green Reward are also useful, and contain 7 species to comply with the Intermediate level. Lift N Fix contains vetch, along with Humbolt winter rye. This mixture is a highly effective nitrogen lifter and provides great cover, which helps suppress weeds before incorporation into the soil.

Could increased maize acreage help drive forage productivity?
Milk from forage continues to be a high priority on dairy farms, fuelled by increasing purchased feed prices and the impact of the reduction in Single Farm Payments. 
"We are seeing higher prices for all feed commodities," comments Tim Richmond, Limagrain Field Seeds Maize Manager UK & Ireland. "This is putting pressure on margins, especially as the difficult silaging season in 2021 means many grass silages are lower than average quality and will require higher levels of supplementation.
"At the same time, dairy farmers are having to plan for life with reduced Single Farm Payments. The average dairy farm will see a reduction of 25-35% in 2022, rising to 40-50% in 2023, which will see farm income reduced by around 1ppl.
"So the challenge will be producing more, better quality forage to help reduce the impact of these economic factors. I would advise starting forage planning now, and in particular to consider opportunities for increasing maize acreage. As a starch-based forage it can complement high quality grass silages extremely well and this year is helping cows make the most of this year's grass silage which is higher in fibre, and slightly less digestible than normal."
He says even in a difficult maize season like 2021, crops generally performed well. The wet cold weather in April delayed harvest, but later sown crops did not suffer.
"Early sown crops drilled into cold soils struggled to get away, with the seed sitting and sulking. Where drilling was delayed until soil conditions were optimum, crops got away very quickly and were ready to harvest at the same time as earlier sown crops – provided care had been taken with variety choice.
"While most of our trial sites around the country were drilled in mid to late April and harvested in early October, the site at Bangor-on-Dee was not sown until late May.
However, the plots were all mature and ready to harvest in mid-October, making up over two weeks of the lost time. All yielded well and even the later maturing varieties came off at over 30% dry matter.

"New earlier-maturing varieties with strong early vigour mean you can manage by the conditions rather than the calendar and still get crops harvested in good time and in good conditions."

Mr Richmond believes if dairy farmers want to increase forage productivity for next season, then maize is a serious contender and says it is worth asking the question about whether more maize could be grown (see flowchart).

"The first point to stress is that if your farm isn't suitable for maize, then don't try and grow it. Similarly, if some land is suitable but some is not, don't try and push acreage. But if you have suitable fields, then it is certainly worth taking a close look at. By selecting an earlier variety it might be possible to grow a crop successfully on more marginal land."

He says they are many varieties that are now available which will mature at least a week sooner than others, requiring fewer Ontario Heat Units to reach full maturity. Earliness is defined by the FAO for the variety; the earlier the variety the lower the FAO. If you have a shorter growing season or a marginal site, selecting an earlier variety will reduce the risk of variable weather delaying harvest and will increase the chance of the successor crop being established.

To simplify variety choice, the LG Maize Manager App which is available on the Apple or Google Play stores, or at www.maizemanager.com  Here, growers can find the Maturity Manager tool. Developed with the Met Office, it shows the average heat units for your post code and recommends suitable varieties.

"Having identified varieties suitable for your area, the Feed Manager tool allows you to compare varieties on their expected output and milk production potential.  Selecting a variety like Prospect or Resolute, for example, will ensure a higher quality feed and the potential to increase milk from forage significantly.

Mr Richmond comments that where maize is currently grown, it may be worth considering following it with a crop like Westerwolds/Italian Ryegrass, to ensure a successor crop is established and contribute additional forage for the spring. "Sowing Westerwolds, Italian Ryegrass or Humbolt forage rye will prevent soil run off and improve retention of nutrients in the soil while building soil organic matter.  Westerwolds and Italians are suitable for grazing or cutting while Humbolt forage rye can be grazed, zero-grazed or baled. All offer flexibility and will increase total forage output per hectare."

If there is not scope to grow more maize on the existing acreage, Mr Richmond points out that having maize grown under contract could be a realistic option for dairy farmers in most parts of the country. He says there is increased interest among arable and dairy farmers alike, as it is an arrangement that can bring big benefits to both parties.

He emphasises that it is important to acknowledge that the objectives of the two parties will often be different. The livestock farmer will be interested in the yield of quality forage to maximise the benefit to his business and his return on investment when buying the crop, focussing on characteristics like dry matter yield, starch content and cell wall digestibility.

The grower will be more concerned with how the variety will suit the rotation that it will mature quickly enough and be harvested in time to allow the autumn sown successor crop to be established.

"But both parties can benefit. The dairy farmer can increase the proportion of maize available without compromising the system at the home farm.  They also have no responsibility for the growing of the crop and can benefit from the arable farmer's expertise.  They can budget the tonnage they should receive and will be involved in key decision making such as harvesting date.

"The grower has an additional cash crop and can use maize to improve the overall rotation. Agronomically, maize can prove particularly effective on farms wanting to control problematic weeds like blackgrass."

Mr Richmond explains that under a typical arrangement, a farmer contracts to grow a set acreage of maize. The grower covers the growing costs, while the buyer pays the costs of harvesting and pays a set price per tonne grown. The buyer will arrange the harvesting with the contractor in consultation with the grower. In some cases, the buyer may supply slurry to the grower and this will be reflected in the price.

"Structured in this way, both parties can benefit, but it is vital for each to understand each other's objectives. The grower will want a crop that fits in with the system and this will usually mean an early maturing crop, allowing a successor crop to be established. As payment is often on a per tonne freshweight basis, physical yield will be important.

"For the purchasing dairy farmer on the other hand, the objective of ensuring sufficient yield will be a priority, but quality will be increasingly important.  Quality forage will be required to increase energy intakes, to boost overall dry matter intakes and maximise the return on investment.

"Variety choice is the basis of any agreement and ensuring the objectives of both parties are met."

Mr Richmond says both parties should be involved in the discussion on variety choice.  He says that it is possible to select a variety with early maturity and good yields to meet the grower's objectives, at the same time having exceptional feed value to deliver the quality the dairy farmer needs.

"For arrangements requiring a very early variety, then Gema and Dignity would be an excellent choice as they both produce high quality, energy-dense forage, but are suited to a short growing season, allowing a successor crop of winter wheat to be established.

"For farmers looking to optimise forage milk production potential without risking a delayed harvest, then Prospect, Saxon and Resolute are outstanding candidates.

"In parts of the country where more heat units are available and conditions and site class mean higher yielding and later FAO varieties are a practical option, then Mantilla and LG31.207 would be good choices, producing plentiful yields of high energy feed."

"With the pressure on margins, increasing milk from forage remains a priority. In many parts of the country, maize can offer a flexible way to increase total forage production and take control of your feed costs.

"And with fertiliser prices rising quickly, it has the attraction of being a lesser user of nitrogen.  In addition as the biggest demand for nitrogen is at stem extension, one option would be to apply less in the seedbed and apply foliar nitrogen later – by which time we might see a weakening in fertiliser prices," Mr Richmond concludes.  

Genetic diversity for a successful harvest

Two brand new sugar beet varieties have been added to the BBRO 2022 Recommended List, whilst the highest yielding variety on the RL, BTS 1915, keeps its lead for the second year running, at 107.3%.

BTS 5770 has one of the best disease resistance packages available, along with a high sugar content.
BTS 3020 offers high yields and excellent bolting resistance as an earlier sowing option. Ron Granger shares his views on what the new varieties bring to sugar beet growers for the coming season. BTS 5770 offers high yields at 101.5% and flexibility in drilling date, showing excellent Early Sown Bolters (ESB) and Normal Sown Bolters (NSB) characteristics. BTS 5770 has a very robust disease resistance profile; with an 8.1 rating for rust, 5.2 for powdery mildew and limited data from both Betaseed and RL trials, suggest it has better than average Cercospora resistance. BTS 3020 joins the RL as the early bird variety, having consistently delivered 3 years of very low counts in the early sowing period before the 5th of March, including data from 2020, which was a higher year for bolting.
BTS 3020 has high adjusted tonne yields of 102.2%, is the third highest yielding variety on the RL, and offers a very good disease resistance package with a rating of (7.5) for rust and 4.6 for powdery mildew. Both varieties are Rhizomania resistant.
BTS 1915 keeps its lead as the highest yielding variety on the RL, for the second year running, at 107.3%. This significant yield advantage of 4.6% over any other variety on the RL – and also as the highest yielding variety in untreated trials at 108.4%, really proves the quality of the genetics behind the variety.